Cleveland police dispatcher involved in shooting of 12-yr-old Tamir Rice resigns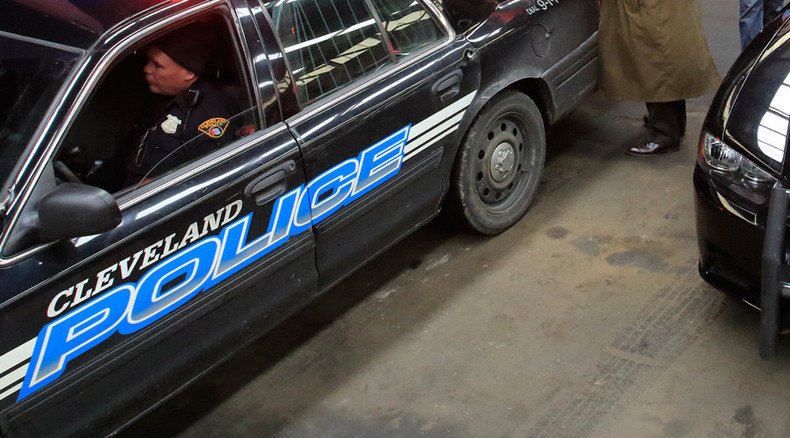 A police dispatcher who sent cops to a playground where a 12-year-old boy was later fatally shot by police has resigned. The dispatcher failed to tell the officers that the 911 caller who reported the boy thought, correctly, that he was holding a toy gun.
On November 22, 2014, police responded to a 911 call concerning Tamir Rice, who was sitting on a swing at the Cudell Recreation Center while holding a BB gun that officers said appeared to look like a real handgun. Two police officers, 26-year-old Timothy Loehmann and 46-year-old Frank Garmback, had responded to a distress call about a "male sitting on a swing and pointing a gun at people" in a city park.
The 911 caller had told dispatcher Beth Mandl that the gun was "probably fake, but you know what, it's scaring" me. Yet that message was not relayed to the responding officers.
Upon arrival at the scene, Officer Loehmann almost immediately fired two shots, one fatally wounding the 12-year-old boy, who was black. The child died in a hospital a day later. Police allege that Loehmann shot the kid after his orders were ignored and as Rice reached for his weapon – a BB gun.

READ MORE:Probable cause found to charge cops with murder & negligent homicide of Tamir Rice
Mandl offered a letter of resignation in July after being off the job without official leave since early April, according to police records reported by WKYC.
"I have enjoyed working here and I will miss you all," the letter said, according to Cleveland.com.
Mandl had "stated her job was to (sic) stressful and she was thinking about quitting," according to a police memo dated July 1.
The department had given Mandl an ultimatum amid her three-month absence. The department demanded a "satisfactory explanation" for her absence or else she would lose her position.
"While Beth loved being a dispatcher, she was tired of rotating schedules and mandatory overtime dominating her life. She is an outstanding and caring dispatcher," said Steve Loomis, president of the Cleveland Police Patrolmen's Association.
In 2008, Mandl was fired from a dispatcher job at Case Western Reserve University in Cleveland, according to Cleveland.com.

Following the Rice shooting, Officer Loehmann said he had "no choice" but to shoot, as the boy was reaching for a toy gun that Loehmann said looked "1,000 percent real." Immediately after the shooting, officers forced at gunpoint Rice's 14-year-old sister to the ground.
READ MORE: ​Cleveland police share new footage of fatal Tamir Rice shooting (VIDEO)
"He gave me no choice. He reached for the gun and there was nothing I could do," Loehmann told a fellow officer following the shooting, according to a report issued in June by Cuyahoga County Prosecutor Tim McGinty.
However, none of the testimonies from civilian witness seem to reflect that claim.
The prosecutor's report included details from 26 witnesses, interviewed by the sheriff department investigators in connection with the crime. Neither Loehmann nor Garmback agreed to be interviewed by investigators.
READ MORE: Ohio activists ask judge for arrests in Tamir Rice case using obscure law
The report also described an FBI special agent's recollection of events shortly after the shooting. The agent, who happened to be near the scene, said the 26-year-old officer was "distraught."

"He seemed like a guy that was put in a very difficult situation and had to make a very quick decision based upon what he believed was an imminent fear of death or serious physical injury to himself and reacted to it," the agent told investigators.
As the FBI agent approached the boy who had been shot, he asked the officer to explain what had happened.

"He said (Rice) had a gun, and he reached for it after he told him to show him his hands," the agent told investigators. "I think it was a very difficult situation for him to deal with and... probably now as the adrenaline was wearing off, I think the realization is kicking in that he just had to shoot somebody."
READ MORE:City of Cleveland says 12-yr-old boy killed by cops was culpable for his death
The FBI agent also noted that the officers did not have a first aid kit in their squad car. It was left to the special agent to begin administering first aid to Tamir.
Rice's gun was found to be an Airsoft replica. It lacked the orange safety feature visualization to show that it was, in fact, a fake.
The evidence from the investigation will be handed over to a grand jury, which will decide whether to press charges against officers Loehmann and Garmback.
READ MORE:Cleveland cops who shot black suspects sue over suspension, discrimination

"Transparency is essential for an intelligent discussion of the important issues raised by this case," said Prosecutor McGinty as he released the report.
Just prior to the report's release, a Cleveland judge ruled that there was probable cause to bring charges of murder, involuntary manslaughter, reckless homicide, negligent homicide, and dereliction of duty against Loehmann. Garmback also could face charges of negligent homicide and dereliction of duty.
You can share this story on social media: