​Cleveland cops who shot black suspects sue over suspension, discrimination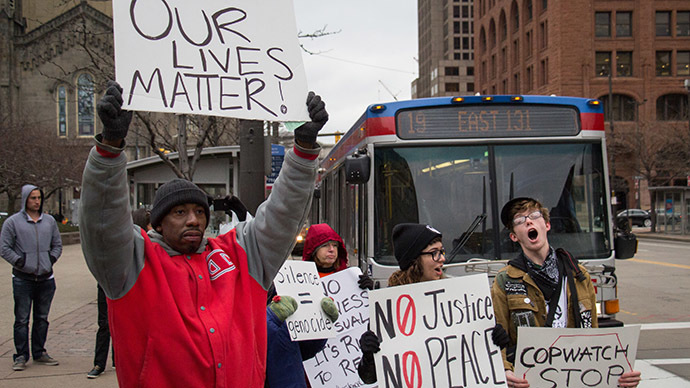 Nine Cleveland police officers are suing their department, claiming its leadership treats non-African American members of the force "more harshly" than others, particularly in cases dealing with officer-involved shootings.
Central to the officers' claim is that the police department is tougher on non-black members of the force than it is on African American members, Cleveland.com reports. They also claim that their punishment has caused "emotional distress and mental anguish," in addition to hurting their reputations.
"A serious dichotomy exists as a result of the defendants' longstanding practices and procedures which place onerous burdens on non-African American officers, including the plaintiffs, because of their race and the race of persons who are the subjects of the legitimate use of deadly force," reads the suit, according to Raw Story.
READ MORE:#HandsUpWalkOut rallies spread across US in wake of Ferguson decision
The nine officers – eight white and one Hispanic – were all involved in a high speed chase back in 2012 that ultimately saw two African American suspects killed in a torrent of bullets. More than 100 officers were involved in the chase, but 13 ended up firing on the two suspects, Timothy Russell and Malissa Williams, after it had ended.
The 13 officers fired 137 shots. Russell was hit 23 times, while Williams was struck 24 times. Both were killed. Police claimed they were shot at first, but no gun was found at the scene.
As a result, the officers involved in firing the shots were placed on paid administrative leave. Earlier this year, six officers – including five supervisors – were indicted by a grand jury.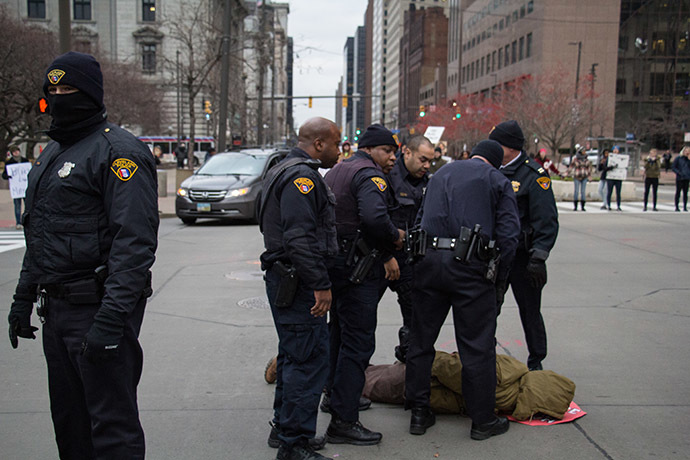 Specifically, the officers involved in the lawsuit claim that the Cleveland Police Department violated protocol when it placed them on restricted duty after they served three days of paid leave, according to Cleveland.com. The officers claim they were allowed back on regular duty when their paid leave was up, but were relegated to restricted duty again for political reasons.
Additionally, the lawsuit alleges that because Ohio Attorney General Mike DeWine said the fatal shooting was a "systemic" problem in the department, they should not be held responsible individually.
When the grand jury had been convened, Cuyahoga County Prosecutor Tim McGinty noted that the Supreme Court had ruled that officers cannot fire on individuals if there is no threat to public safety.
"The driver was fully stopped. Escape was no longer even a remote possibility. The flight was over," Cuyahoga County prosecutor Tim McGinty said, as quoted by CBS Cleveland.
As for the police supervisors, McGinty said they failed to follow their own protocol.
"They ignored their own training. They put the public at risk. They put the officers under their command at risk," McGinty said.
READ MORE:Cleveland cops shot boy holding air gun 2 seconds after arriving at scene (VIDEO)
News of the lawsuit arrives as Cleveland police face mounting criticism for the recent death of 12-year-old Tamir Rice – an African American boy who was killed by police who mistook his toy gun for a real one.
You can share this story on social media: