Probable cause found to charge cops with murder & negligent homicide of Tamir Rice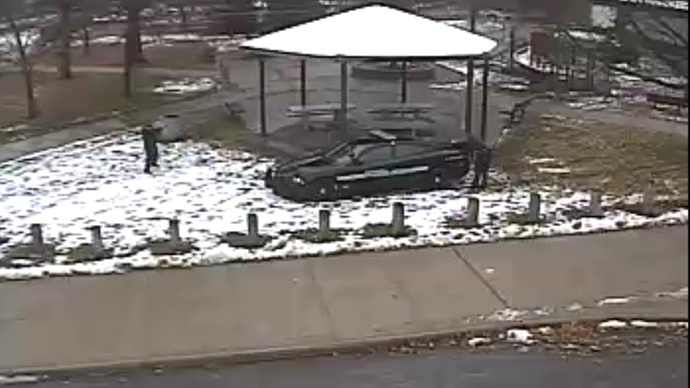 A judge has found that there is probable cause to charge the Cleveland, Ohio police officer accused of shooting and killing 12-year-old Tamir Rice with murder, while his partner could be charged with negligent homicide, according to local news reports.
A Cuyahoga County judge found probable cause to charges against Officers Timothy Loehmann and Frank Garmback in connection with Rice's death.
Judge Ronald B. Adrine wrote in his judgment entry that there is cause to bring charges of murder, involuntary manslaughter, reckless homicide, negligent homicide and dereliction of duty against Loehmann, who shot the preteen while he was playing with a toy gun at a recreation center playground in November.
READ MORE: Ohio activists ask judge for arrests in Tamir Rice case using obscure law
Ardine, a municipal court judge, did not find probable cause for charging either man with aggravated murder, while he wrote that Garmback should not be charged with murder, involuntary manslaughter or reckless homicide.
He said that there is probable cause to charge Garmback, who was driving the patrol car, with negligent homicide and dereliction of duty.
However, the judge cautioned that his role is "advisory in nature" and that it is up to the "discretion of the City's prosecuting authority" to file any and all charges, according to WEWS.
Judgement entry on Tamir Rice case by WKYC.com:
The basis of both of the affidavits and Ardine's ruling is a video of the incident.
"The video in question in this case is notorious and hard to watch. After viewing it several times, this court is [still] thunderstruck by how quickly this event turned deadly," the judge wrote. "The relevant portion covers 18 seconds immediately preceding the point where Tamir Rice suffers the wound, doubles-up and falls to the ground. On the video, the Zone Car containing Patrol Officers Loehmann and Garmback is still in the process of stopping when Rice is shot."
Judge watched #TamirRice shooting video and was "thunderstruck by how quickly this event turned deadly." His findings now go to prosecutor.

— PHIL TREXLER-WKYC (@PhilTrexler) June 11, 2015
Ardine's opinion comes days after a group of community and civil rights activists used an obscure state law to file affidavits seeking the arrest of the two officers.
Section 2935.09 of the Ohio Code, passed in 1960, allows for a "private citizen having knowledge of the facts who seeks to cause an arrest or prosecution" to "file an affidavit charging the offense committed with a reviewing official for the purpose of review to determine if a complaint should be filed by the prosecuting attorney." The rule says that the complaint may be filed "in order to cause the arrest or prosecution of a person charged with committing an offense in this state."
On November 22, 2014, Loehmann and Garmback responded to reports of a person with a gun at Cudell Recreation Center, an area park. Within two seconds of exiting the police cruiser, Loehmann fired two shots at Rice, striking him once in the abdomen and killing the 12-year-old. The release of the 911 tape later revealed the caller said he thought the gun was being brandished by a juvenile and was "probably" fake.
READ MORE: 12yo boy carrying toy gun shot dead by Cleveland police
His findings, which are only a recommendation, now go to Cuyahoga County Prosecutor Timothy J. McGinty.
McGinty received the results of the six-month investigation into the shooting from the Cuyahoga County Sheriff's Office last Wednesday, and has not made any decisions about whether any charges should be filed against Loehmann and Garmback, nor what those charges should be.
"Once the investigation is complete ‒ and in the death of Tamir Rice, it is not at this time ‒ all evidence and expert analysis will be presented to the Grand Jury," McGinty said in a statement on Tuesday. "The Grand Jury in Cuyahoga County, by the policy of the County Prosecutor's Office, ultimately makes the charging decision in all fatal use of deadly force cases that involve law enforcement officers."
McGinty's office is preparing to present evidence in the case to a grand jury.
You can share this story on social media: