Neuro-surging: Dr. Carson closing on Trump in latest GOP presidential poll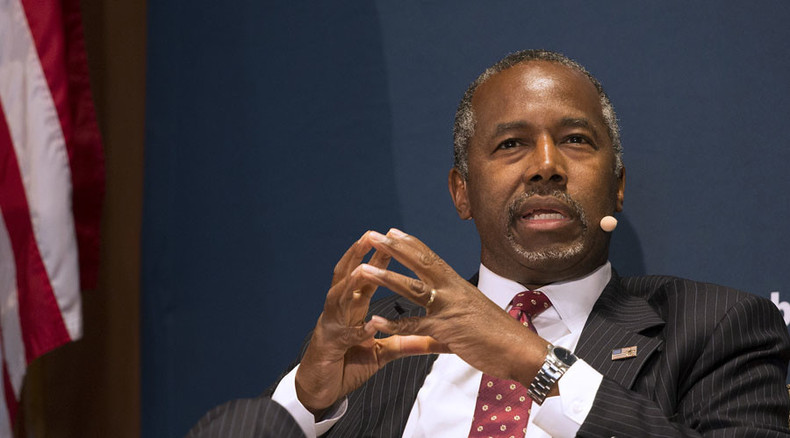 Political novice Ben Carson is gaining on bombastic frontrunner Donald Trump among Republican primary voters, according to the latest 2016 presidential race poll. Carson has gained 17 points since last month, while Jeb Bush has fallen by seven points.
Following Trump's 27-percent support in the latest CBS/New York Times poll, Carson, a retired neurosurgeon, comes in at second with 23 percent, followed by Bush, television personality Mike Huckabee, and Florida Senator Marco Rubio, each at six percent.
Support among Republican primary voters rose from early August to early September for Trump, Carson, Ohio Governor John Kasich, and former Hewlett Packard executive Carly Fiorina. Support for the latter two remains in the single digits, though.
READ MORE: Dump Trump: Major Latino group protests GOP frontrunner, clashes with supporters

Jeb Bush, the former Florida Governor and latest Bush family standard-bearer, dropped seven percentage points in a month, while Wisconsin Governor Scott Walker fell eight points. Walker has two-percent support in the latest poll.
READ MORE: Trump on Fiorina: "Look at that face! Would anyone vote for that?"

Carson pulled in more support from college graduates than Trump (29 percent to 21 percent), while Trump led Carson in voters without a college degree (30 percent to 19 percent).
America needs a creative entrepreneur - not a mild mannered manager. Trump creates big things. Carson manages the status quo.

— Southern Cal Patriot (@scalpatriot) September 15, 2015
Men were more likely than women to support Trump, while women were more likely than men to go for Rubio.
READ MORE: Feel the Bern: Sanders takes lead in Iowa poll as Clinton reels from email scandal

Thirty-seven percent of poll respondents said their mind was made up as to which candidate they will support in their respective state's primary vote. Those who said they knew who they will vote for were twice as likely to support Trump as opposed to Carson. It is too early to tell for 63 percent of Republican primary voters.

Further results from the CBS/NYT poll, conducted from September 9 to 13, will be released later Tuesday ahead of a Republican presidential debate.
Carson's rise in this poll mirrors the ascension of underdog Vermont Senator Bernie Sanders over longtime frontrunner for the Democratic presidential nomination, former US Secretary of State Hillary Clinton. The latest CBS presidential nomination tracker has Sanders up by 10 points and 22 points in Iowa and New Hampshire, respectively, among likely Democratic primary voters.