Dump Trump: Major Latino group protests GOP frontrunner, clashes with supporters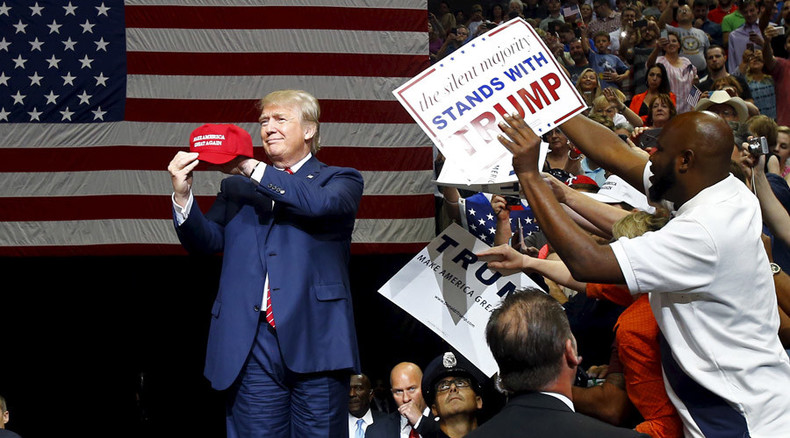 Hundreds of people held an anti-Donald Trump protest in downtown Dallas, Texas, on Monday ahead of the Republican frontrunner's campaign rally. The real estate mogul spoke to more than 17,000 people, but a major Latino group had a simple message: Dump Trump.
The protest rally, spread across social media with the hashtag #DumpTrump, brought together several hundred people on a Monday evening as they marched for a mile from the Catholic Cathedral to Dallas City Hall.
Shortly after Trump wrapped up his speech, some of the candidate's supporters clashed outside with protesters.
Dallas police said there were no arrests at the event and that it concluded without incident.
Organizers said that #DumpTrump was a march against hate put on for Latino voters and others shocked by the racist and anti-immigrant rhetoric of Trump.
"Donald Trump has become a very diverse and very intolerant figure in American politics," Domingo Garcia, president of the north Texas chapter of the League of United Latin American Citizens (LULAC), the oldest Latino civil rights organization in the US and the main organizer of the #DumpTrump rally, told WFAA.
In a WFAA Twitter clip, Garcia said, "we're going to give him a hot Texas welcome, and show that we are a bi-cultural, bilingual state. We are about inclusion – building bridges, not walls."
The rally attracted marchers who arrived in buses from Fort Worth, Arlington and Houston.
Support came from young people serving on school councils, girls marching in their school uniforms and mothers with their children in strollers. One of the signs read, "we are not political pinatas."
Rallying at the Cathedral Guadalupe and saluted by a trumpet, marchers rallied around one sign that said "We can't have racist for president" alongside a picture of Trump.
LULAC's Garcia said Trump is turning Americans on each other with his hateful and racist rhetoric. Another sign, which read "Will swap 1 Donald Trump for 10,000 refugees," referenced the Obama administration's pledge to offer sanctuary to 10,000 Syrian refugees and spread quickly around the internet.
During an hour-long speech at the American Airlines Center, Trump pledged to reduce taxes if elected president. The rally was attended by an estimated 17,000 supporters after 20,000 free tickets were distributed by Ticketmaster.
"Corporations are paying far too much, far too much," he said, according to WFAA. "Middle-income people are being decimated."
Trump said he would reveal details of his plan over the next three weeks or so. He said it is "going to be really pro-growth."
But the topic that galvanized the most reaction was immigration.
"We have to stop illegal immigration. We have to do it," Trump said, according to WFAA. "We have to build a wall, folks; we have to build a wall. And a wall works. All you have to do is go to Israel and ask, 'How's your wall working?'"
"I want to have a big, beautiful door, but [immigrants] have to be legal. They have to be. And if they're not going to be, they can't come in."
"We are a dumping ground for the rest of the world. We are. A dumping ground."
Trump ended his speech by saying his audience was part of a movement to take back the country, and that "we will make America great again."