Feel the Bern: Sanders takes lead in Iowa poll as Clinton reels from email scandal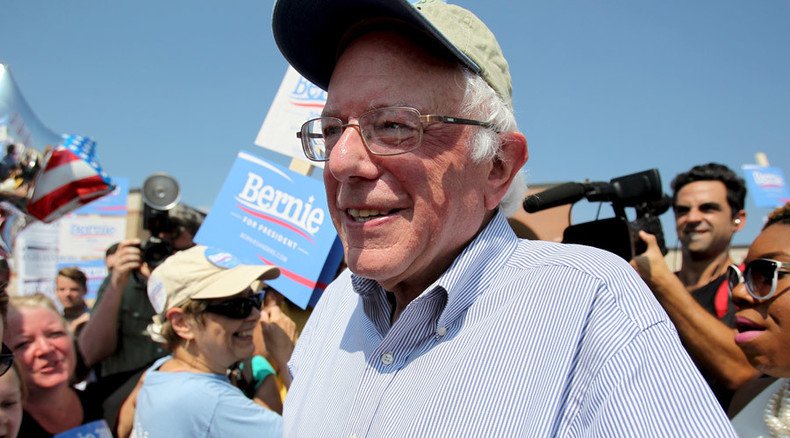 Left-wing presidential candidate Bernie Sanders has overtaken frontrunner Hillary Clinton in Iowa, according to a Thursday poll. The senator is favorite among 41 percent of Iowa Democrats, putting him one point ahead of Clinton.
While the numbers are too close to call when the 3.4 percent margin of error is taken into consideration, the Quinnipac University poll represents a huge reversal from early July, when Clinton was ahead of Sanders by 52 percent to 33 percent.
"Sanders has seized the momentum by offering a message more in line with disproportionately liberal primary and caucus voters," said Peter A. Brown, assistant director of the poll. "He is the candidate of the Democratic left, against his own party's bosses and their prized presidential candidate, Secretary Hillary Clinton."
The 74-year-old self-described "Democratic Socialist" is also polling ahead of Clinton in New Hampshire, the second Democrat nominating contest.
Sanders has surged in the polls this summer under his anti-establishment, economic inequality rhetoric, while Clinton has struggled to recover from an email scandal that has dominated headlines for six months.
Revelations that Clinton used a private email server and address while serving as secretary of state from 2009-13 emerged even before her White House run was made official.
However, it wasn't until Tuesday that Clinton finally apologized, admitting she had made a mistake.
The scandal seems to have taken a hit on Clinton's campaign, with 30 percent of those surveyed in the Quinnipac poll saying they do not find her honest and trustworthy. Only 4 percent said the same was true of Sanders.
A number of donors and strategists have also expressed dissatisfaction with her response to the scandal.
In a Tuesday ABC interview, Clinton acknowledged that voters had used the words "liar,""dishonest," and "untrustworthy" to describe her, but said she is confident that the outcome of the race will be very different.
"I am confident by the end of this campaign, people will know they can trust me and that I will be on their side and will fight for them and their families," she said.
Clinton did manage to fare better in the latest NBC News/Marist polling of Iowa voters. That survey, released last weekend, showed her leading Sanders 48 percent to 37 percent.
The former secretary of state is still the Democratic frontrunner, and is maintaining double-digit leads in national polls.
The Quinnipiac Univeristy poll surveyed 832 likely Iowa caucus-goers by telephone between August 2 and September 8.
You can share this story on social media: