Jury delivers death sentence to white supremacist guilty of killing 3 at Kansas Jewish centers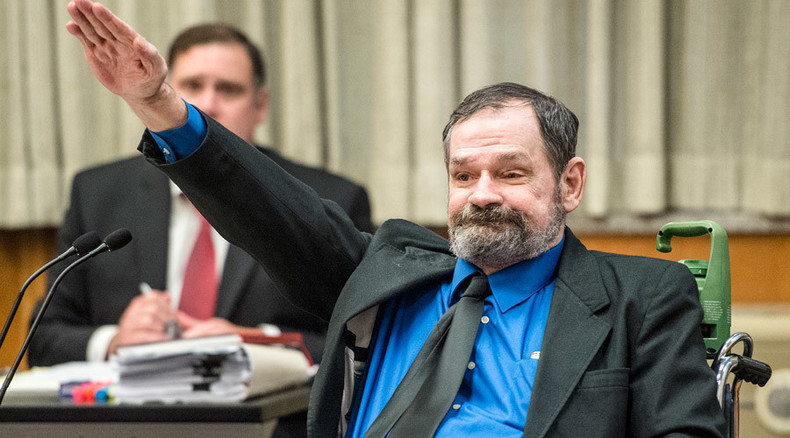 A week after a Kansas jury found a white supremacist guilty of murdering three people outside two local Jewish centers in 2014, the same group decided that he should be put to death. The judge must now consider whether to go through with the recommendation.
READ MORE: White supremacist found guilty of killing 3 at Kansas Jewish centers
A former "Grand Dragon" of the Carolina Knights of the Ku Klux Klan, 74-year-old Frazier Glenn Miller Jr., also known as Frazier Glenn Cross, was convicted last week of capital murder. During his trial, Miller admitted to killing 14-year old Reat Underwood, his grandfather William Corporon, 69, and Terri LaManno, 53, outside two Jewish centers in Overland Park, Kansas, a suburb of Kansas City, in April 2014.
Miller used two shotguns to kill his victims during the shooting rampage. He also was in possession of a rifle and a revolver.
Representing himself during the trial, Miller accused the Jews of committing genocide against the white race and said he intentionally wanted to kill Jewish people. However, none of his three victims were Jewish.
"Folks, you got to see first-hand in this trial what a hate crime looks like," prosecutor Steve Howe said in wrapping up his case, the Washington Post reported. "The defendant's actions clearly are the type of case the death penalty is made for."
During Tuesday's closing arguments, Miller said he didn't care about what sentence the jury would decide on. Afterwards, he gave a Nazi salute, just as he had the day of his original conviction, according to the Associated Press.
"Frankly my dears, I don't give a damn," he said, as quoted by the AP.
"I voluntarily sacrificed my freedom for my people," he added, according to Reuters, which stated that he dared the jury to sentence him to death. "Do you see fear in me? You see a proud white man."
Upon hearing that the jury had recommended the death penalty, Miller reportedly smiled at the jurors and said, "Thank you."
A hearing has been scheduled for November 10, where the presiding judge will announce whether he has decided to follow the jury's recommendation to sentence Miller to death.
Although Miller said he did not realize that his victims were not Jewish until days after the shooting, he said he did not regret killing them because Corporon and LaManno had been "accomplices of the Jews." He did express regret over killing Underwood due to his young age, but during cross examination he said if Underwood had been Jewish, his death would have been justified.
"I thought I killed some of my Jewish enemies," he said during the trial. "I swear to you on my mother's honor I felt free as I drove away; I was floating on a cloud."
After the death penalty recommendation was delivered, Terri LaManno's husband, William, said he believed the system had worked.
"I believe the criminal justice system worked effectively and the people from the state of Kansas have spoken loud and clear," LaManno said, according to Reuters. "Three peoples' lives were taken needlessly because of ignorance and unfounded hatred."