White supremacist found guilty of killing 3 at Kansas Jewish centers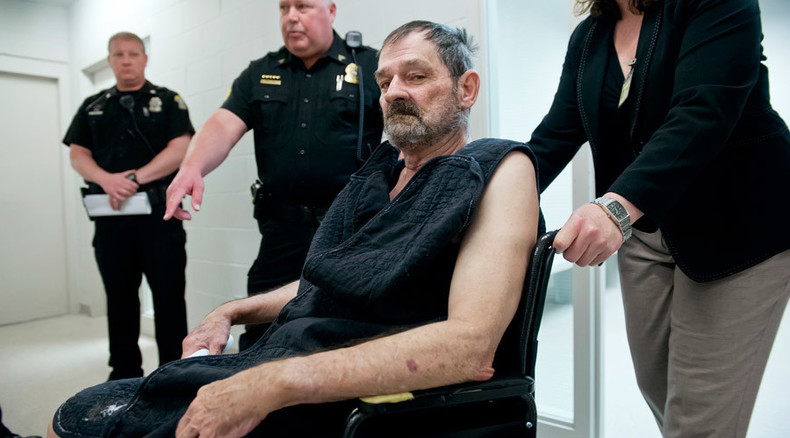 White supremacist Frazier Glenn Cross was convicted of killing three people, including a boy, outside Kansas Jewish centers in April 2014. Despite admitting to the murders, Miller pleaded not guilty. The jury will now decide whether he is put to death.
READ MORE: Ex-KKK leader charged with attacking Jewish centers, killing three
After approximately two hours of deliberations, the jury found Cross – also known as Frazier Glenn Miller, 74 – guilty on three murder counts as well as on three counts of attempted murder.
As the verdict was read, Cross interrupted the judge, gave a Nazi salute and said, "Sieg Heil," CNN reported.
Cross said he was disappointed at the verdict, which he said ruined his day.
Representing himself at the trial, Cross previously admitted to committing the murders but called on jurors to "show great courage" by finding him not guilty.
The Monday trial was interrupted twice due to Cross showing disrespect to the court. Judge Thomas Kelly Ryan had to briefly halt the proceedings after the defendant made comments about the court system and accused Ryan of carrying out an unconstitutional trial.
"Please show some respect. Respect? I have no respect for you, this court or any damn thing associated with it," he growled, according to WFSB News. "In fact, I hate every damn one of you because you are whores of the Jews."
During his closing arguments, Johnson County District Attorney Steve Howe said there was a "mountain of evidence that the defendant came to" the sites with the intent of "killing as many people as possible," according to WFSB.
"Clearly, his vision, his goal was to kill as many people as possible at those two facilities," Howe told jurors, the Guardian reported.
Cross objected to Howe's statement, saying that he was not trying to kill people but people who were Jews, who he accused of committing genocide against the white race.
He admitted to killing 14-year old boy Reat Underwood, his grandfather William Corporon, 69, and Terri LaManno, 53, outside two Jewish centers in Overland Park, Kansas, a suburb of Kansas City, in April 2014. All of Cross's victims were Christians, but not Jewish.
Cross said he did not learn that until six days after the murders, but that he still did not regret killing Corporon and LaManno, who he considered accomplices to Jews. While having said that he was sorry for killing Underwood because of his age, under cross-examination Cross admitted that he would have been fine with killing Underwood if the boy was Jewish.
The former "Grand Dragon" leader of the Carolina Knights of the Ku Klux Klan, Cross told the jurors that everything he did was for them, "for your children, your grandchildren and for future generations of our people."
Cross also described the joy he felt after he pulled the trigger.
"I thought I killed some of my Jewish enemies," he said. "I swear to you on my mother's honor I felt free as I drove away I was floating on a cloud."
Now in a wheelchair and having to use an oxygen tank due to a lung illness, Cross tried to find the jury's sympathy, saying that on that day in April of last year he was risking his life.
The jury will return Tuesday morning to decide whether Cross will get the death penalty.
Cross said he hoped to "die a martyr" after the Monday verdict was announced. At last week's hearing, Cross said from the very beginning he knew he might end up getting the death penalty.
"You guys are going to put me on death row," he told jurors, according to NBC News. "We all know that."