Florida braces for Erika after storm's deadly pass through the Caribbean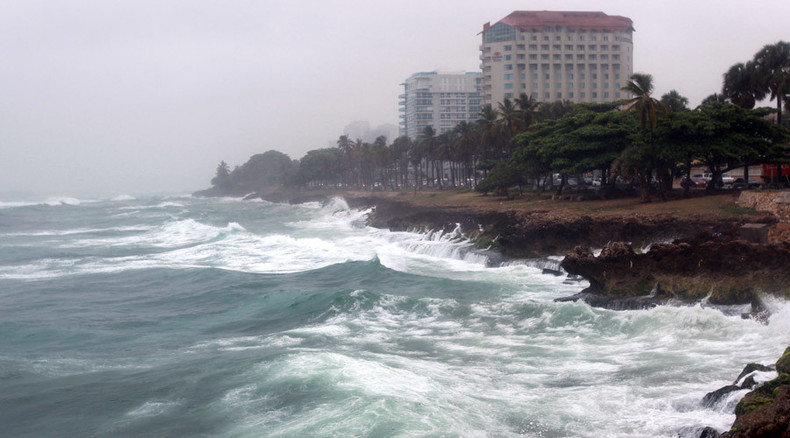 With tropical storm Erika likely to make landfall on Monday, Florida has declared a state of emergency and is bracing for impact. The storm has already devastated the island nation of Dominica, leaving as many as 20 dead in its wake.
Florida Governor Rick Scott issued the emergency proclamation on Friday, as the storm drenched Puerto Rico and the Virgin Islands while making its way towards Hispaniola. There is a slim chance the storm might break up in the mountains of the island shared between the Dominican Republic and Haiti, but forecasters consider it most likely to proceed along the eastern coast of Cuba and hit Florida by Monday morning.
The US Coast Guard has warned mariners to prepare for gale winds and leave the ports in Southern Florida if at all possible.
"All oceangoing commercial vessels and oceangoing barges greater than 500 gross tons should make plans for departing the port," the Coast Guard said in a statement.
Thousands were without electricity in Puerto Rico on Friday as the storm caused landslides and knocked down trees and power lines across the island. Governor Alejandro Garcia Padilla has called up the National Guard as a precaution. Government offices and schools were closed, and residents were warned to stay indoors.
"[Erika] is unlikely at this point to become a hurricane," said Chris Landsea, a meteorologist with the US National Hurricane Center in Miami. "The main threat will be rainfall. You've seen some horrific rainfall in the Caribbean with what happened in Dominica."
At least 20 people died, and more are missing in Dominica, the tiny Caribbean island nation sandwiched between Guadalupe and Martinique. The island's prime minister, Roosevelt Skerrit, has posted images of the devastation on his Facebook page.
At the Cape Canaveral launch facility, the US Navy is still hoping to proceed with the launch of a key communications satellite. The fourth Mobile User Objective System (MUOS) satellite, which is designed to provide secure cell-phone coverage to the US military worldwide, is scheduled to be lifted into space at 6:07 am local time on Monday by an Atlas 5 rocket.
"The storm track is highly variable, but right now the range remains poised to support launch operations," said Lt. Colonel Thomas Ste. Marie of the US Air Force's 45th Space Wing, according to the Orlando Sentinel.
READ MORE: Hurricane Katrina: Costliest natural disaster in US history in numbers

Erika will make landfall on the tenth anniversary of Hurricane Katrina, a Category 5 storm that devastated the Gulf Coast in the last days of August in 2005. It was the costliest natural disaster in US history, displacing over a million people and killing 1,836. Damages from the storm and subsequent flooding have been estimated at $150 billion.