Excessive security, drugs & assaults triggered riot at Arizona's Kingman private prison – report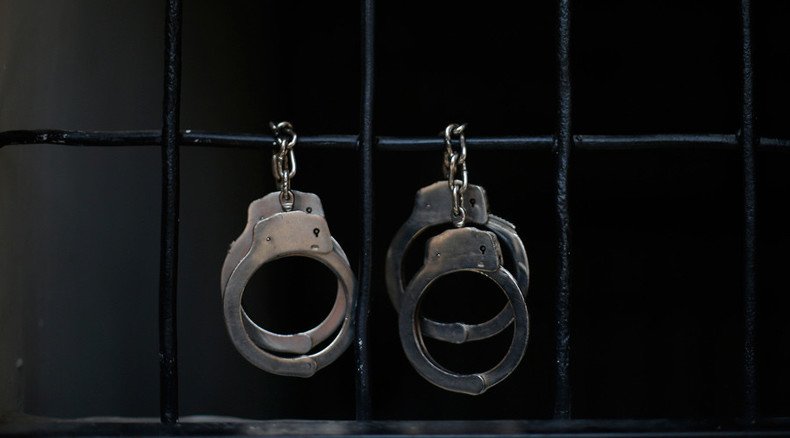 A riot suppression operation at a private prison near Kingman, Arizona, last July was even more violent than the riot itself, with SWAT-style officers beating even completely incapacitated inmates, alleges a report by the American Friends Service Committee.
Disturbances at 3,500-bed Kingman prison (opened in 2004) emerged on July 1, 2015, and lasted whole two days, leaving six prison guards injured. It took 96 members of Arizona Department of Corrections' special Tactical-Support Unit (TSU) Arizona Department of Corrections (ADC) to quash revolt, after which 1,168 prisoners had to be transferred to other penal facilities because Kingman prison premises were badly damaged.
READ MORE: Mass imprisonment policy in US begets more crime - study
A new report from the American Friends Service Committee adds disturbing details unknown to the general public how unrest could be settled in a privately-owned American prison.
READ MORE: Texas detention center staff accused of sexual assault
The report claims that "there were no altercations among prisoners" and "by most accounts, it is clear that the riots were motivated by prisoner frustration with MTC's management," whereas Kingman's persistent problem is understaffing.
READ MORE: Florida prisons chief asks for $30mn to reform 'abuse culture' after 346 inmate deaths
The committee collected evidence of the eyewitnesses of the 2015 riot, who claim that the riot suppression was "unnecessarily violent and disrespectful," the prisoners being beaten on backs and bellies, "to the point where prisoners who were completely incapacitated were still being beaten, tased and shot with rubber bullets." Some prisoners were beaten by a tactical support unit after the riot was effectively over.
The report cites a member of the Tactical Support Unit (TSU) saying, "flash 'em, bang 'em, and roll 'em."

The TSU team used a "barrage" of tear gas, hornet grenades, rubber pellets, and other "less than lethal" munitions, which lasted about 15 minutes.
READ MORE: Tennessee prison employees used inmates as slave labor for personal profit
After that the prisoners were ordered on the floor, and then they were all handcuffed and led outside. The beating of the tied prisoners continued even after that.
"... even though everyone was already on the floor and on their stomachs they still kicked us, beat us and shot us with their weapons."

One of the witnesses of the riot testified that prisoners were severely beaten for disobedience while in fact their guilt was minor if none: some of them didn't speak English and were not responding when addressed to, others were mercilessly beaten for complaining over being handcuffed too tight or simply exemplarily.

"Each man that was brought out was beaten and abused physically and verbally. The kid that was kicked in the face had his eye socket busted. His eye swelled up so bad he couldn't see out of it for three days."
READ MORE: Mississippi private prisons hold inmates longer, without reducing crime – study
The prisoners claim they were left lying in the dirt on the prison yard, handcuffed, for another 14-24 hours.
The report also names a number of mismanagements at the Kingman penitentiary facility which eventually contributed to the riot. The report mentions "flood" of drugs, reportedly smuggled in to the prison by the staff, excessive "locking down" of the unit, when prisoners were locked in their cells for 23-24 hours a day without being allowed to see visitors and were left without other privileges.
The Arizona Republic reported that "the facility had the most inmate assaults and fights among the state's private prisons every year from fiscal 2010 to 2014," with 119 of the 161 inmate assaults in Arizona's six private prisons accounted for in fiscal 2014.
The reports notes that police brutality would be discouraged if state prisoners could win million dollar lawsuits against the system, but as long as the system remains profitable, it remains like it is.
READ MORE: Private companies profit from pay-to-play phone calls in US prisons
Kingman prison's operator Management and Training Corporation (MTC) is running 20 other penitentiary facilities in seven states, with a capacity of 26,000 prisoners.

MTC has a history of more than a dozen incidents over the past decade when "large groups of inmates refusing directives or chasing MTC staff off the yard." Back in 2010, the Kingman prison witnessed a jailbreak of three prisoners and a violent brawl that 150 inmates took part in, when the MTC staff had lost control of the facility.
READ MORE: Jail-breaking point: Overcrowded prisons strike White House clemency chord
Arizona state legislators are currently considering accepting bids for private prisons to hold additional 2,000 prisoners. The AFSC calls on to Arizona authorities not hold any bids until an independent assessment of MTC activities is made.
"No new contract should be signed until a thorough evaluation of Kingman and the five other privately-operated prisons under contract demonstrates that these facilities are safe, cost effective, humanely run, and accountable to the public," the report said.
You can share this story on social media: