Tennessee prison employees used inmates as slave labor for personal profit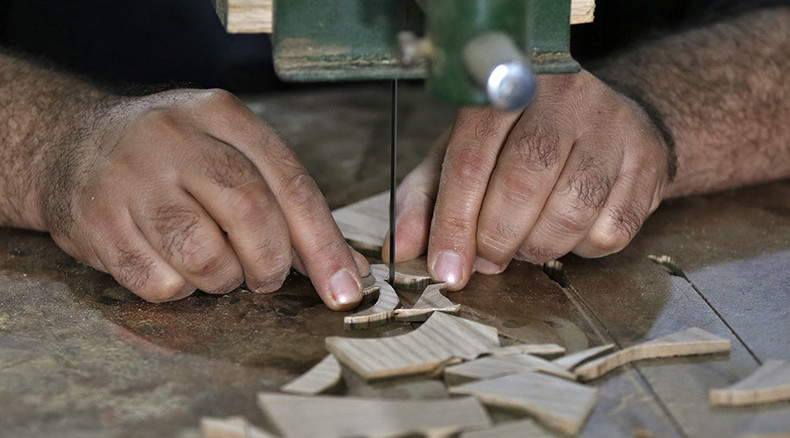 Inmates in a Tennessee jail are being used as slave labor to benefit the private company belonging to detention center employees, two former prisoners claim. They waited until they were released to speak out, fearing recriminations beforehand.
Larry Stephney and Charles Brew both worked in the building trades department while serving time at the Metro-Davidson County Detention Facility in Nashville, Tennessee. There, they told AP, they were forced to build items without pay for a company called Stand Firm Designs.
That woodworking company is operated by Rob Hill, a building trades instructor at the Metro-Davidson County Detention Facility; Steven Binkley, a computer instructor who works out of a room adjoining the woodworking shop; and Roy Napper, who formerly worked at the jail, AP reported.
"Stand Firm Designs is composed of retired contractors with over 100 years of combined experience. We design and construct decks, gazebos and storage sheds to your specifications," a cached version of the company's website said. "We are a Christian based organization located in the greater Nashville area."
But Stephney and Brew claim that they were the woodworkers building the products the company sold on its website, which has since been taken down, and at the Nashville Flea Market. The two men told AP that they mainly built cornhole games, plaques shaped like footballs, birdhouses and dog beds.
Stephney says he spent 30 hours a week working without pay for the three men behind Stand Firm Designs. He was released in June. Brew worked even more hours in the department each week until he was released in July. They were both tutors for other inmates.
"I've been in that shop at 11 o'clock at night, 1 o'clock in the morning," Brew said.
Metro-Davidson County Detention Facility has a job-training program for inmates designed to help them once they are released. The jail is run by Nashville-based Corrections Corporation of America (CCA), the nation's largest private prison operator.
"Providing inmates with voluntary, high-quality and impactful re-entry programs that help prepare them for success upon release is one of CCA's top priorities," company spokesman Jonathan Burns told AP.
The building trades class at the facility is voluntary, and inmates can discontinue participation upon giving notice in accordance with established procedures, Burns added.
Stepheny and Brew, however, claim they had no choice but to perform work for Stand Firm Designs.
Stephney said that, if he made a complaint, he was afraid contraband would be planted in his cell, jeopardizing his parole.
"You do anything there as an inmate, you get put in the hole," Stephney said. "If they do something wrong, they should get in trouble too."
Brew also worried something bad would happen to him if he complained.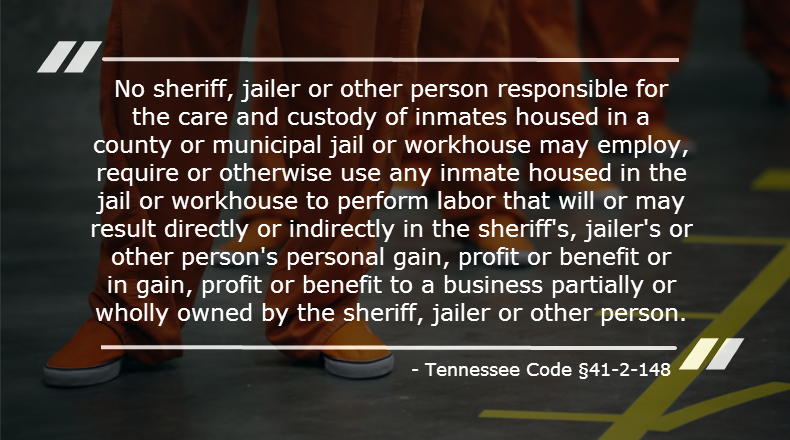 Under Tennessee law, inmates are allowed to work for free if they are performing labor on behalf of a charitable organization or a nonprofit corporation. But Stand Firm Designs is neither. To protest, the men concealed their names under pieces of wood nailed to the backs of items, they told AP. They also wrote the number "412148," which refers to Tennessee Code §41-2-148. That section prohibits the use of prison labor for private profit.
As the two men have come forward with their allegations, Davidson County District Attorney General Glenn Funk requested that the Tennessee Bureau of Investigation look into their claims of misuse of inmate labor at the facility.
The state's lieutenant governor, Ron Ramsey, held a hearing on problems within the Tennessee Department of Corrections on Saturday night. Issues within the state's jails include minimal staffing, low morale and violence inside prison walls. He has scheduled more hearings about the department in September, WATE reported.
Napper, the former CCA employee who helps run Stand Firm Designs, denied any wrongdoing at the Metro Davidson facility.
"All I can tell you is it's really just a bogus thing. There's not really any slave labor going on over there," Napper said. "Since it's under investigation, I can't really tell you anything else."
People or companies convicted of violating the law, specifically subsection (b), can be fined up to $1,000 and imprisoned between 11 and 29 days for the misdemeanor crime. However, it matters how much each inmate is used for private gain.
"Each day inmate labor is used in violation of subsection (b) constitutes a separate offense," the law says.