Florida prisons chief asks for $30mn to reform 'abuse culture' after 346 inmate deaths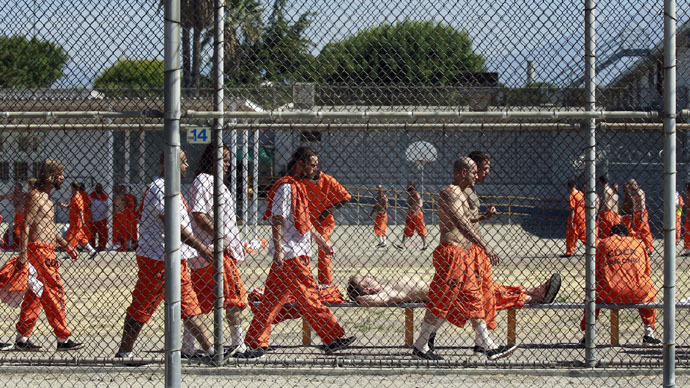 Florida's new Department of Corrections head is asking the state for nearly $30 million to institute badly needed reforms as federal and state offices investigate Florida prisons, which began after multiple reports of torture and inmate deaths surfaced.
Julie Jones, the fourth permanent Florida Department of Corrections (DOC) Secretary under Republican Gov. Rick Scott, testified in front of the state's Senate Criminal Justice Committee just a few weeks into her tenure, which began on December 10. She answered tough questions from lawmakers regarding a systemic culture of torture and abuse, as well as crumbling infrastructure throughout the Florida prison system, the Miami Herald reported on Tuesday.
In May, the paper published extensive coverage of allegations that mentally ill inmates locked up in a Miami, Florida prison are routinely tormented and abused for sport by a clique of correctional officers and staff. The Herald's reports included a description of the death of 50-year-old convict Darren Rainey, who was pushed into an enclosed shower and forced to endure a shower of scalding hot water for more than an hour, a torturous experience that ultimately killed him.
In December, the US Department of Justice notified Florida authorities that it will look into potential abuses of inmates after 346 people died behind bars in Florida during 2014 – the highest number of inmate deaths on record, WJCT reported. At the same time, there's been a doubling of incidents involving the use of force by corrections officers.
"Right now, we do have facilities where people take liberties," Jones told lawmakers at Tuesday's hearing. "They've done it the way their daddy did it and their granddaddy did it."
She explained that one of her top priorities in the position is adequately staffing the agency and training personnel to better handle the growing number of mentally ill inmates.
"We are taking young officers new in the business and giving them critical skills to interact with inmates like we never have before," Jones said. "Training is going to be key to this."
"The staffing deficiencies have hampered our ability to operate at peak efficiency. That's the bottom line," she added.
READ MORE:US prisoner executions drop but are more painful, brutal
Jones is requesting a budget increase of nearly $30 million to address the department's deficiencies. Of that, $16.5 million will go towards filling vacant positions, the Naples Daily News reported.
"When I took over, I took over a set of ongoing reforms done by Secretary Crews," Jones said. "He began this building process by initiating some unprecedented assessments to the agency's culture and enacted a zero-tolerance mantra against misconduct. So, the Governor tasked me with the mission to reform the culture of this agency and in his words, 'fix what needs to be fixed.' So, my current emphasis is a balanced and fiscally responsible budget. This is the next critical step to ensuring the success of this department."
The department is also requesting more than $13 million to repair some of its older buildings, including some that were built in the early 1900s. "Critical" repairs ‒ like new roofs ‒ will cost $8.2 million; $1.5 million will be used to repair perimeter security systems at several facilities; and $750,000 will be for renovations at facilities not currently in compliance with the Americans with Disabilities Act. In addition, the department is asking for $2.7 million to build medical facilities at Union Correctional Institute. The previous facilities were closed after asbestos and lead paint were discovered.
"I'm sending a team out to each core group of facilities to do one-on-one interviews and anonymous assessments because there's keypads and computers that you can sit down and answer questions that are totally anonymous to start to get to the cultural piece so I can drill down and go to institutions and ask specific questions that are relative that is going on at that particular facility as opposed to visiting and doing the same stump speech to 49 different facilities," Jones added.
READ MORE:Florida inmate still on death row despite DNA proof of innocence discovered years ago
At the beginning of May, at least two people were killed and 100 injured in a gas explosion at Escambia County Central Booking and Detention Facility, a jail in Pensacola, Florida. The blast resulted in the partial collapse of one of the buildings.
In what the Herald called "an unprecedented moment of candor," the newly installed secretary acknowledged, in response to a question from Republican Sen. Rob Bradley, that private prisons are allowed to "cherry-pick" the least-expensive ‒ and often least-violent ‒ inmates, leaving the most difficult offenders to be handled by state-run institutions. It's a question most DOC secretaries in the past have said "no" to, Bradley said, including her immediate predecessor, Mike Crews, WFSU reported.
"He [Crews] said the private facilities do not cherry pick because I asked that specific question of him, and that's what he told me. You're giving me a different answer that the privates get all the easy ones and you [the state-run facilities] get all the bad ones," Bradley noted.
"Yes, sir. That is my belief," Jones replied.
READ MORE:Amnesty International slams US in death penalty report for executing mentally disabled prisoners
The DOJ was already investigating Franklin County Correctional Institute for the 2010 death of inmate Randall Jordan-Aparo, who was found dead after being repeatedly gassed by guards in an isolation cell after pleading for medical help. The lead investigator for the case, Teresa Gustafson, is married to Don Ladner, the newly promoted assistant commissioner of investigations and forensic science services for the Florida Department of Law Enforcement (FLDE), reported the Tampa Bay Times ‒ the sister paper of the Herald.
Ladner is overseeing his agency's investigations into the prison system. FDLE told the Times-Herald it sees no conflict of interest in the relationship.
In January, the trial of Shawn 'Jiggaman' Rogers, an inmate accused of brutally murdering his cellmate in March 2012 at the Santa Rosa Correctional Institution ‒ a facility on the Florida Panhandle ‒ was delayed after Herald raised concerns over how officials handled the investigation of the death, which may have been a set-up, according to the Florida Center for Investigative Reporting.
You can share this story on social media: