US prisoner executions drop but are more painful, brutal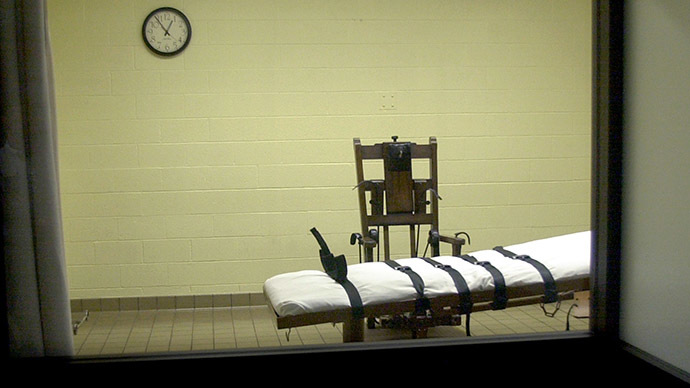 The numbers of executions in the United States may have declined in 2014, but a new survey says that changes in European law have contributed to a series of botched executions, one lasting as long as two hours and used 15 drug doses.
Prisoners on death row are being executed less, but how they are dying is becoming more brutal and grotesque, according to the Death Penalty Information Center. In its annual review, the group showed a 10 percent drop in executions in 2014, to a total of 35, compared to the previous year. That is roughly a 33 percent of a drop from 1999, when 98 executions were held.
"The relevancy of the death penalty in our criminal justice system is seriously in question when 43 out of our 50 states do not apply the ultimate sanction," said Richard Dieter, the center's executive director and author of the report. "The US will likely continue with some executions in the years ahead, but the rationale for such sporadic use is far from clear."
There are 32 states with the death penalty statute on the books. Eighteen states do not condone its use and the review found the number of new sentences has also declined, falling to 72 this year. Between 1974 and 2010, there were 100 sentences a year.
READ MORE: California's 'dysfunctional' death penalty struck down, ruled unconstitutional
Just seven states carried out executions in 2014, but the review found three states – Florida, Missouri and Texas – responsible for 80 percent of the deaths. In Texas, they executed 10 people in 2014, compared to 16 in 2013. But Missouri has announced it plans to carry out at least one execution a month. So far, it has used lethal injections on 10 prisoners in 2014, up two from the previous year.
While figures for executions might be on the decline, the actual executions are becoming more inhumane. DPIC's report highlights the string of botched executions that occurred through the year. In January, Dennis McGuire gasped and snorted for 15 minutes in front of his horrified children. It was Ohio's first experimental use of a new lethal drug combination.
READ MORE:Texas not forced to disclose source of death penalty drugs
Then in April, Oklahoma saw gruesome scenes of officials struggling and failing to find a vein in death row inmate Clayton Lockett, who struggled for 43 minutes before he died – much of it behind a curtain that prevented the media from witnessing the event. New documents released this week unveiled new details of the tragedy, including blood splattering over the doctor who was trying to insert the IV.
And this past July in Arizona, it took almost two hours and 15 doses of drugs to kill Joseph Wood.
Part of the reason for the apparent increase in botched executions is the scramble for lethal injection drugs. The European Union banned the export of drugs used in the lethal injection process to the US, citing it as a violation of the EU Torture Regulation. States that had not stockpiled their supply of barbiturates, paralytics, and potassium solution were suddenly scrambling and had little choice but to ask local pharmacies to replicate the necessary drugs.
READ MORE: Majority of Americans still support death penalty despite botched executions
These compounding pharmacies, which are not as heavily regulated by the Food and Drug Administration as other pharmacies, have also come under fire, with critics questioning their drug-making procedures.
The other area highlighted in DPIC's annual review are exonerations, with seven former death row inmates being freed in 2014 – the highest number since 2009.
You can share this story on social media: