Texas not forced to disclose source of death penalty drugs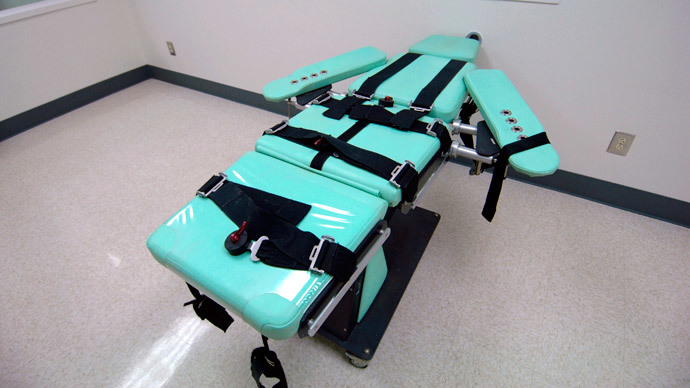 The US Supreme Court has denied an appeal from a Texas death row prisoner whose lawyers demanded that state officials reveal the source of drugs intended to execute him.
Robert James Campbell, 41, avoided execution on May 13 when his punishment was halted less than three hours before the procedure. His attorneys appealed, claiming that Campbell is mentally retarded and therefore ineligible for the death penalty. The decision on this is pending.
Campbell was sentenced to death for the 1991 abduction, rape and slaying of a 20-year-old Houston bank teller, Alexandra Rendon.
The drug appeal's refusal is largely based on the state's refusal to reveal the drug supplier for the lethal injection.
The states in which death penalty is legal have been struggling to find drugs after several manufacturers refused to sell their products for use in lethal injections.
It's not the first case of the sort in Texas. Last month, the attorney general's office said the state can keep its execution drug supplier secret due to law enforcement claims that suppliers would face serious danger if revealed. However, they weren't able to provide the court with any detailed information on what could threaten the suppliers citing "law enforcement sensitive information" that may be in question.
Lawyers for death row prisoners are urging the government to reveal the drug sources, as untested drugs can lead to unconstitutionally cruel and unusual punishment, as happened in Oklahoma in April.
In that case, Clayton D. Lockett, 38, was scheduled to be executed with a combination of lethal drugs, but after the drugs were administered, the inmate was conscious and blinking, and eventually died of a heart attack after 40 minutes in agony.
Back in May, Republican Senator Paul Ray from Utah described the use of firing squads as a form of execution in the USA as "more humane."
Also a month ago, report titled 'Irreversible Error' stated that some chemicals used to execute death row inmates cause such acute pain that veterinarians in some parts of the US are banned from using them to euthanize animals.