Texas detention center staff accused of sexual assault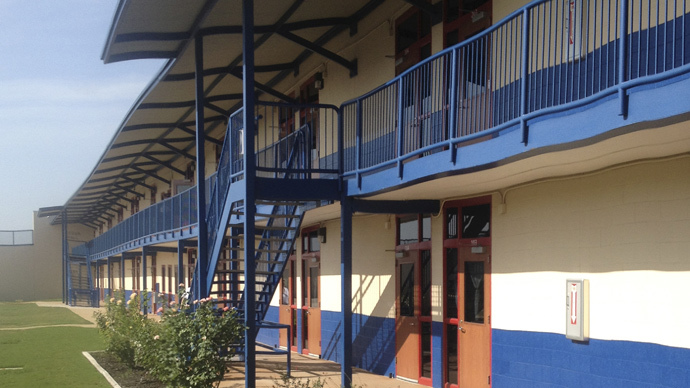 Central American women being held at a Texas detention center claim that multiple female detainees are being sexually assaulted by guards, according to a civil rights group asking for an investigation into the matter.
The Mexican American Legal Defense and Educational Fund (MALDEF) has told Secretary of Homeland Security Jeh Johnson to investigate "serious allegations of substantial, ongoing sexual abuse" by private prison contractor employees in a Karnes County, Texas, detention facility. The building is used by the Department of Homeland Security to house women and children immigrant detainees. Many of the women detained at the facility are escaping violence and sexual assault in their home countries in Central America.
"MALDEF has been monitoring the conditions at Karnes, as part of that we have been working with pro-bono lawyers who have been handling immigration papers. Not long after the center opened in August, lawyers started receiving reports about strange things going on," Marisa Bono, staff attorney at MALDEF, said to RT.
The complaint alleges that numerous women claim harassment and sexual assault has been going at the facility since August 2014. The allegations include: "Karnes Center personnel removing female detainees from their cells late in the evening and during early morning hours for purpose of engaging in sexual acts in various parts of the facility; personnel calling detainees 'novias' or 'girlfriends' and requesting sexual favors in exchange for money; promising of assistance with their pending immigration cases, and shelter when and if the women are released; and Karnes Center guards kissing, fondling and/or groping female detainees in front of other detainees and children."
Immigration and Customs Enforcement (ICE) did not immediately respond to RT's request for comments.
ICE spokeswoman Adelina Pruneda told Reuters, however, that the agency has a zero tolerance policy for sexual abuse and assault. "Individuals in our custody are housed and treated in a safe, secure and humane manner," she said.
READ MORE: Obama and Pentagon at odds over Guantanamo closure
If the allegations are confirmed, personnel at the Karnes Center will be in violation of the Prison Rape Elimination Act, as well as federal sexual assault and harassment laws.
"We haven't heard from ICE yet, we're hopeful we will hear soon what actions are being taken to ensure the safety of the women and children," Bono told RT. "And also what action is being taken to ensure this doesn't happen again. Under the federal law the facility is supposed to have a policy for prevention and immediate response to these types of reports and we are concerned whether or not one exists, we haven't been able to find it, but also whether one exists whether it is being implemented properly."
Women have already notified supervisors at the center of these alleged crimes – which are said to involve four detainees – but no steps have been taken to stop or prevent the abuse by at least three Karnes Center employees, according to Bono.
READ MORE: US might keep Bagram secret prison detainees even after end of Afghan War
Bono said sexual assault and harassment is very common in detention centers, but that is why MALDEF takes the position that families shouldn't be detained in the first place – and certainly not children.
In response to these accusations, the GEO Group released the following statement to RT:
"GEO strongly refutes these allegations. The Karnes County Residential Center provides a safe, clean, and family friendly environment for mothers and children awaiting required processing by the U.S. Immigration and Customs Enforcement (ICE) agency. The Center provides high quality care, and our company strongly denies any allegations to the contrary."
"Onsite ICE personnel provide direct oversight to ensure compliance with ICE's Family Residential Standards. Since its activation, the Karnes County Residential Center has, under direction and guidance from ICE, created an open and transparent policy of allowing visits to the Center by the public, elected local and national officials, federal officials from ICE and other government agencies, as well as nongovernmental organizations."
The detention center was built and run by a private prison contractor, GEO Group, which has repeatedly been featured in public news reports concerning allegations of abuse and neglect, which led to several contracts in Texas being terminated. In 2011, Change.org reported that a coalition of 15 Texas-based civil and immigrant rights organizations wrote to the former head of Homeland Security, Janet Napolitano, to end the contract to build the new Karnes County detention center.
READ MORE: Victim to blame for getting raped at work by inmate, says Penn. attorney general
You can share this story on social media: