Victim to blame for getting raped at work by inmate, says Penn. attorney general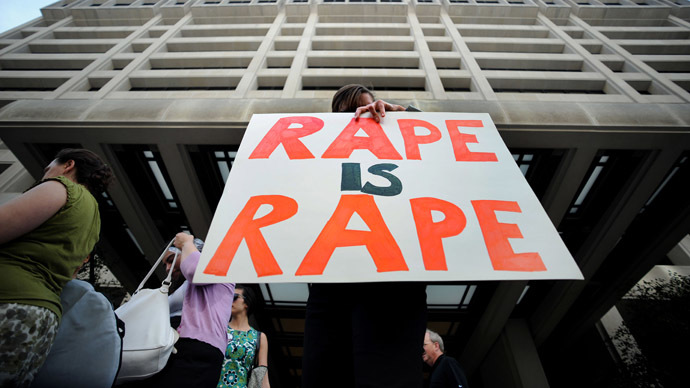 The Pennsylvania attorney general's office is blaming a woman for getting raped by an inmate while at work at a state prison, saying she should have locked the door to her office. The prisoner has a history of rape, including of a woman at another jail.
The 24-year-old state prison clerk is suing over her rape at a central Pennsylvania prison. The defendants include the state Department of Corrections and three employees. The woman worked at the Rockview prison near Bellefonte in 2013 when she was attacked by inmate Omar Best, a criminal with three prior convictions for sex-related crimes. Best had been transferred to Rockview after committing a felony assault on a female prison worker at a different facility.
"Despite this knowledge, defendants... still allowed Omar Best to have unsupervised access to the offices of female employees," the attorney general's office wrote in the response to the woman's suit.
The PA Attorney General blames woman for her own rape http://t.co/DlaLIp2xqapic.twitter.com/HdxTcD3eml

— ThinkProgress (@thinkprogress) September 25, 2014
In mid-July 2013, just a month after the plaintiff began working at the Bellefonte facility, she told her superiors that inmates were coming into the hallways that led to her office, and that she was uncomfortable with Best, who sometimes emptied the trash in that area of the building. She was especially distressed by Best entering her office, ThinkProgress reported. She was told that Best would no longer be allowed in her office, according to the Washington Examiner.
Best raped the woman on July 25, 2013. First, he entered her office, pretending to empty the trash can. He grabbed her from behind, strangled her until she was unconscious, then raped her. The ordeal lasted 27 minutes before closed-circuit television showed the inmate leaving the room ‒ the victim's own office ‒ of his own accord. Prison staff later found the woman on the office floor, still unconscious.
The woman had tried to blow a defense whistle, but no one heard, the Examiner reported.
I can't get past PA's Attorney General & her office placing blame on a woman for her own rape while working in a prison. Just wow.

— Jayme (@Pghemtchick) September 25, 2014
In response to the lawsuit, the Pennsylvania Attorney General Kathleen Kane's office offered up an initial filing that outlined potential defenses, which included "contributory negligence" by the victim. In the 13-page document, Senior Deputy Attorney General Timothy Keating wrote that the woman "acted in a manner which in whole or in part contributed to the events."
Basically, Keating's filing blames the woman for getting raped because she didn't lock her office door.
But the lawsuit says that the prison superintendent actually moved the clerk offices from a secure floor where there was no inmate contact to a location that was on a cell block.
"There were no locked doors between the offices and cell blocks, including Block C where (the victim) worked, except for the copy room," the court documents said.
And we wonder why women don't come forward when raped or assaulted. We blame them for their own rape?! #disgustinghttp://t.co/3Uczx0ERT8

— Rhonda Newman (@Ditchthewick) September 25, 2014
The woman's lawyer, Clifford Rieders, told CNN that Keating's filing was victim shaming at its worst.
"It's total bunk. It's throwing something out there so they can have it on the record," Rieders told the Associated Press. "They have no evidence of [negligence on her part]."
"It has no substance, but it's just the way some lawyers litigate," Rieders continued, adding that it's "insulting to women generally who face rape cases only to be told that it's their fault."
Jennifer Storm, a Pennsylvania state victim advocate agreed. "I think it's absolutely deplorable to blame the victim in this case," she told CNN.
"It's not common legalese in rape cases," Storm said of the state's defense. "And it shows a significant lack of sensitivity to not understand the harm this has done to the young woman and the re-victimization she's going through today."
"In a rape case, this is plain victim-blaming."
WTF PA Attorney General??? Its NEVER the victim's fault when they get raped. http://t.co/OoqqkDxhZk

— Sandy Parker (@ickybug06) September 25, 2014
"That is unbelievable," Anne Ard, the executive director of a local women's resource center, told the Centre Daily Times. "This kind of victim-blaming is unconscionable and, frankly, makes people distrust the justice system. I am appalled."
Kane has maintained that contributory negligence arguments are common, and her office is required to outline all possible defense for the case. "Kane is likely using the standard language for this line of litigation," ThinkProgress wrote.
After an outcry from sexual assault prevention advocates, the attorney general's office issued a statement on Wednesday.
"Attorney General Kane and her office are sensitive to the extraordinary challenges victims face in both the criminal and civil processes, particularly in cases involving sexual assault," the statement said, according to the Daily Times.
"Contributory negligence is one such defense the office often presents on behalf of our clients ‒ whether we like it or not ‒ so that this defense can be preserved," the statement said. "This initial filing should not necessarily be interpreted as meaning this defense will be pursued throughout the entire case."
Best was convicted in May of raping the clerk, and sentenced to life in prison as a career sex offender. He also had a 2012 rape conviction and a 1996 attempted rape charge that was reduced to indecent assault, among other crimes on his record, AP reported.