Over 10 US journalists killed in connection with their work since 1991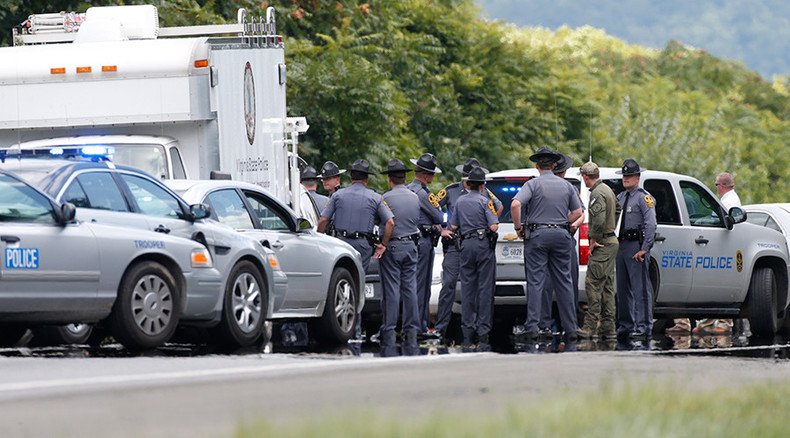 The on-air killings of Alison Parker and Adam Ward in Roanoke, Virginia on Wednesday is only the most recent case of journalists being killed in the United States while on the job, or for reasons related to their work.
READ MORE: 2 WDBJ journalists killed during live broadcast in Virginia
In August 2007, Chauncey Bailey of the Oakland Post was shot multiple times by a masked gunman in the streets of Oakland. He had only been editor-in-chief of the Post for two months. The gunman, Devaughndre Broussard, confessed the next day, saying that he was angered by Bailey's coverage of the Your Black Muslim Bakery where he worked.
Bailey, a 57-year-old black man, had been covering the bakery due to the crime and corruption that seemed to revolve around it, as well as its status as a hub of ethnic community activism. It was revealed only two years after Bailey's death that the owner of the bakery, Yusuf Bey IV, had ordered the killing because of a damaging piece the journalist was about to publish.
Robert Stevens, 63, was a photo editor at The Sun newspaper in Boca Raton, Florida. He died in October 2001 after inhaling anthrax – the same strain that had been sent to officials and other journalists, including NBC anchor Tom Brokaw, following the 9/11 attacks. The perpetrator was identified as microbiologist Bruce Ivins, who took his own life in 2008 when he learned that he was being charged by the FBI.
READ MORE: Virginia shooting intensifies gun control debate
During the September 11 attacks themselves, Bill Biggart was killed when he rushed to the twin towers to photograph the event. The 54-year-old freelance photojournalist's body and cameras were discovered beneath the rubble on September 15, 2001. His riveting photographs of the tragedy were later exhibited by the Smithsonian's National Museum of American History and the International Center of Photography.
Citizen journalist James Edwin Richards was killed in his home in Venice, California on October 18, 2000. He was the editor of Neighborhood News, an email newsletter that reported on crimes such as shootings, drug dealing, petty theft, and vandalism, even going so far as visiting crime scenes and photographing drug deals. This made him a lot of enemies in his crime-ridden Oakwood neighborhood, which resulted in his premeditated murder.
Manuel de Dios Unanue was a radio host and former editor-in-chief of El Diario la Prensa, the largest Spanish-language newspaper in New York City. After leaving the newspaper in 1989, he hosted a radio show called "What Others Try to Silence," where he read the names of drug traffickers on air. He published a book about drug cartels and founded two magazines which published the names of drug dealers, as well as photographs documenting their activities. On March 11, 1992, he was murdered in a Queens bar at the order of a Colombian drug cartel.
Three Haitian-born journalists were murdered in Little Haiti, Miami within a three-year span. Jean-Claude Olivier, who worked at the WLQY radio station, was murdered on the way to his car on February 18, 1991 for his outspoken political views. He supported the democratically elected Haitian President Jean-Bertrand Aristide, who would be ousted by a military coup later in the year.
A colleague of Olivier, Fritz D'Or, who was a radio talk show host for WLQY as well as a prominent activist and community figure in Little Haiti, was assassinated on March 15, 1991 after several threats for supporting President Aristide.
Dona St. Plite was a Haitian-born reporter working for the WKAT radio station in Miami. He was murdered on October 24, 1993, at a benefit for the family of Fritz D'Or. His name appeared on a hit list made up of supporters of former Haitian President Aristide.
You can share this story on social media: