Virginia shooting intensifies gun control debate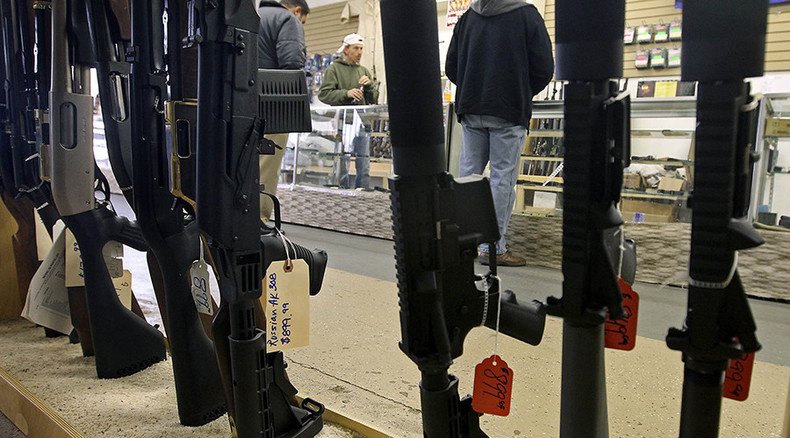 The on-air shooting of two journalists in Virginia on Wednesday has rekindled the debate on how to balance gun rights with adequate screening to prevent guns from falling into the wrong hands.
The shooter, Vester Lee Flanagan, professionally known as Bryce Williams, allegedly faxed a manifesto to ABC News, in which he mentions acquiring the gun that he used for the attack.
READ MORE: Ex-TV man kills shoots at journalists live on air, kills himself
"I put down a deposit for a gun on 6/19/15. The Church shooting in Charleston happened on 6/17/15," Flanagan allegedly wrote, indicating that he had acquired the gun legally.
READ MORE: Virginia shooting: Dead gunman's manifesto cites racial grievances, Charleston church attack
The shooting of two television journalists in Virginia is another example of gun violence that is "becoming all too common," White House spokesman Josh Earnest told reporters Wednesday. He added that Congress could pass legislation that would have a "tangible impact of reducing gun violence in this country."
Earnest said that he had not yet had a chance to speak with President Barack Obama about the shooting, which occurred Wednesday morning.
"There are some common sense things that only Congress can do that we know would have a tangible impact on reducing gun violence in this country," he said. "Congress could take those steps in a way that would not infringe on the constitutional rights of law abiding Americans."
Many others sounded off on Twitter, using the opportunity to call for more gun control, with many blaming the National Rifle Association, a gun rights advocacy organization.
Progressive commentator Chris Hayes deviated from this chorus, implying that difference between the amount of shootings in the United States and other countries may be more than simple matter of policy.
Others indicated their distaste for the way people are using the tragedy to further their political agendas.
Democratic Gov. Terry McAuliffe suggested stricter background checks were necessary in an interview with WTOP.
"It goes back to what I've talked about for a long time," McAuliffe said, as reported by Politico. "There are too many guns in the hands of people who should not have guns. This is why I've long advocated for background checks. I'm a gun owner. I'm a hunter, but you know, I went through background checks myself to get it. We've got to, in America, we've got to come together. There is too much gun violence in the United States of America."
Somewhat echoing this sentiment, Dr. Jeffrey Swanson, Professor of Psychiatry and Behavioral Sciences at Duke University, suggested a more targeted approach to barring people from gun ownership.
"A history of violent behavior is a far stronger and more important indicator of future violent behavior than mental illness is," Dr. Swanson told RT. There has been some movement recently on laws that might make it possible to seize weapons from individuals deemed to pose a danger to others, he added.
"We're never going to live in a world where we don't have people who are inclined to harm others or themselves, or people who are disturbed, or people who are angry. But we should be living in a world where they don't have such easy access to such an efficient killing technology as firearms."
You can share this story on social media: