Fashion for amputees: Clothing line for disabled launched in NYC (VIDEO)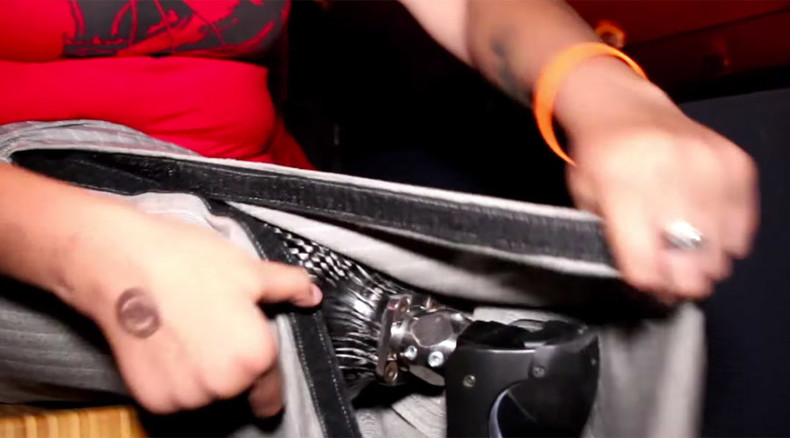 A special line of clothing for amputees was launched in New York City on Saturday. It has been created by a designer, who is an amputee herself, to make it easier for the disabled to get dressed and undressed.
The new line is called "Amped Up." It features trousers with velcro fastening which can be opened all the way to the top of the leg, so that above-the-knee amputees can put them on and take them off with ease.
Eman Rimawi, the designer behind the new line, is an amputee herself, so she is no stranger to the problems disabled people encounter while dressing.
"So I came up with this idea after having difficulties getting dressed with my above knee prosthetic, and I was wearing shorts and leggings all the time, then I decided I wanted to try designs that made it easier to get dressed: jeans, pants, suits... I started to play around with the idea and came up with these designs," she said, as quoted by Ruptly.
The designer believes that there will be a demand for her products.
"There are 1.7 million Americans that are amputees, and that does not even include veterans, so that would probably be even more people, and it's all kinds of amputations, leg, arm... we need to have something that markets towards us, that we can wear and be perfectly fine in," she said.
"You see with the models that are out (here) you can´t even tell that they have velcro, you can´t tell anything and still look good," she added.
Rimawi was diagnosed with a rare blood clotting disorder in 2013. In 2014, she had 11 surgeries and lost both of her legs, including one knee. However, she did not give up.
"I feel completely different than how I felt last year, and it had a lot to do with me being of service to others and being there for other people through their struggle," she said, local media reports.