DARPA wants to develop prosthetic arms that let vets 'play catch' with their kids again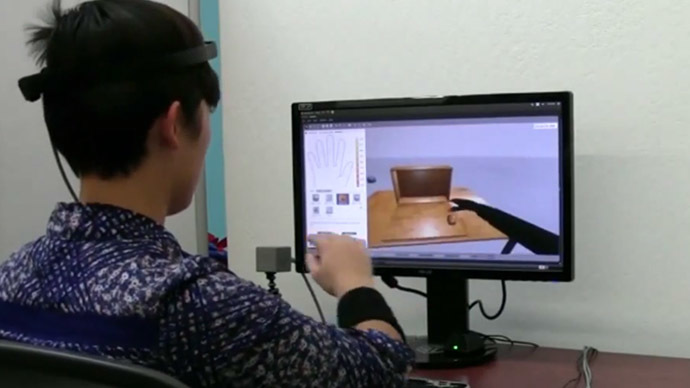 The Pentagon's research arm hopes to revolutionize the way prosthetics are designed, allowing them to replace the tactile sensations of hands. Currently, those with missing limbs can use the tools to grasp objects, walk, and play sports ‒ but not to feel.
The Defense Advanced Research Projects Agency ‒ better known as DARPA ‒ has introduced a new initiative intended to help normalize the lives of those who have lost limbs. The Hand Proprioception and Touch Interfaces (HAPTIX) program "aims to develop fully implantable, modular and reconfigurable neural-interface systems that would enable intuitive, dexterous control of advanced upper-limb prosthetic devices."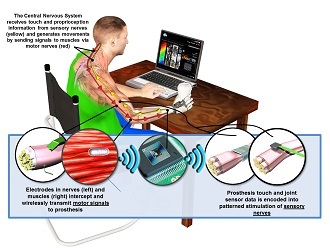 DARPA awarded funding to eight institutions to develop 'feeling' prosthetics in the first phase of the initiative on Monday.
"Sensory feedback, especially from the hand, is vitally important for many functions, and HAPTIX seeks to create a sensory experience so rich and vibrant that users would want to wear their prostheses full time," the agency wrote in a statement. "By restoring sensory functions, HAPTIX also aims to reduce or eliminate phantom limb pain, which affects about 80 percent of amputees."
READ MORE:Mind over disability: Double amputee manages prosthetic arms by intuitive thought (VIDEO)
The Cleveland Clinic's Lerner Research Institute is one of the prime contract recipients. It will use its $2.5 million to develop outcome metrics that are clinically relevant and rooted in cutting-edge science, the clinic said in a statement. In layman's terms, it wants to come up with a better way to know whether a prosthetic arm is the right fit for an amputee.
"With this research, we hope to provide avenues to make better evidence-based decisions about advanced prosthetic arms," said Dr. Paul Marasco, of the Lerner Research Institute's Department of Biomedical Engineering and the Louis Stokes Cleveland VA Medical Center. "These advances could help physicians make better clinical care decisions, justify to payers the need for advanced prosthetic devices, and ultimately improve the quality of life for persons with upper-limb amputations."
Marasco and his team have been working on developing a more natural-feeling prosthetic limb for the past five years, the Cleveland Plain Dealer reported. They are examining how the nervous system processes touch and interacts with the artificial attachment.
"The way it works now is that a clinician will watch an amputee while they do tasks ‒ cutting fruit, stirring things or folding clothes and other things you do while you're in the home," Marasco told the Cleveland paper. "They look at how they're actually using the arm," and measure how quickly the patient can perform tasks. They also ask patients how the prosthetic limbs feel by using questionnaires.
"The snag with both of those is that neither are very objective, in that it's really up to the skill level of the person who's watching," he added. "It's also up to the influence of how the particular person is feeling on a given day."
President Barack Obama stressed the importance of DARPA's advanced prosthetics programs in his State of the Union address in January. In the annual speech, he noted that the US government i s interested in "creating revolutionary prosthetics, so that a veteran who gave his arms for his country can play catch with his kids again."
The National Institutes of Health (NIH) is supporting the research, which is part of Obama's Brain Research through Advancing Innovative Neurotechnologies (BRAIN) Initiative. The program is aimed at revolutionizing the understanding of the human brain.
"These projects speak to the power of integrated government-funded science," Dr. Walter Koroshetz, acting director of the NIH's National Institute of Neurological Disorders and Stroke (NINDS), said in a statement. "Now, as part of ambitious DARPA projects, these groups will have the opportunity to turn their discoveries to benefit amputees, particularly those brave men and women who lost their limbs defending our country."
The Food and Drug Administration is also involved in HAPTIX, helping develop standards for verifying the safety of the new technologies, as well as quantifying their benefits, according to DARPA program manager Doug Weber.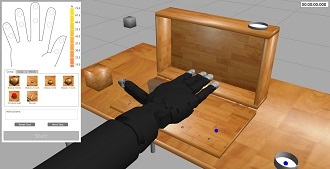 The agency will evaluate the eight contracts awarded over the course of the 18-month-long Phase 1. Those technical approaches that prove successful will move to Phase 2, which will integrate the selected technology components into a complete HAPTIX test system. Phase 3 will initiate take-home trials of a complete, FDA-approved HAPTIX prosthesis system within four years, DARPA said.
"And Stage 3 is what we're really all working for and working backwards from that goal is to allow user to take an advanced prosthetic arm and hand home," University of Utah associate professor Gregory Clark, the research team leader for the school's bionic hand project, told KUER.
The institutions that received the prime contracts are Case Western Reserve University and the Cleveland Clinic, both of which are in Cleveland, Ohio; the non-profit Draper Laboratory in Cambridge, Massachusetts; Nerves Incorporated in Dallas, Texas; Ripple LLC and the University of Utah in Salt Lake City; the University of Pittsburgh in Pennsylvania; and the University of Florida in Gainesville. The winners will also receive a variant of the DARPA Robotics Challenge Simulator from the Virtual Robotics Challenge in June 2013.
You can share this story on social media: