Brain implants could ease growing PTSD epidemic among US service members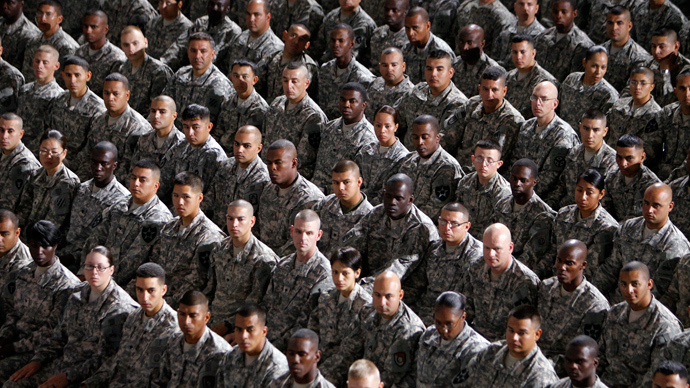 A new five-year program launched by DARPA hopes to one day help treat a range of psychiatric conditions, including post-traumatic stress disorder (PTSD), using brain implant technology.
The Defense Advanced Research Projects Agency, or DARPA, has officially announced a $70 million project that could produce technology to combat depression, anxiety, and other common conditions found among US service members that have seen combat in Iraq and Afghanistan.
"We've seen far too many times where military personnel have neuropsychiatric disorders and there's very few options," Justin Sanchez, a program manager with DARPA, told NPR.
Researchers at the University of California San Francisco, along with Massachusetts General Hospital, will be looking at brain implant devices that can both monitor and electrically stimulate the brain.
The goals of the program are an extension of a White House initiative announced by President Obama to explore the human brain. That project, known as BRAIN (Brain Research through Advancing Innovative Neurotechnologies), announced by Obama last year, directed Congress to earmark $100 million in 2014 to "better understand how we think and how we learn and how we remember."
Brain implants capable of stimulating neurons are already in use for patients suffering from Parkinson's disease and other neural conditions, NPR reported. What DARPA proposes in its new pilot program, however, represents significant advances in implant technology.
If successful, DARPA's research could help tackle a significant issue within the US veteran community. According to the Department of Veteran Affairs (VA), PSTD is currently believed to be experienced by 11-20 percent of vets of the Iraq and Afghanistan wars (Operations Iraqi and Enduring Freedom).
By comparison, the VA says that a staggering 30 percent of Vietnam veterans are suspected of having suffered from or still being treated for PTSD.
Scientists will begin their research by monitoring the brain's interaction with existing brain implants in real time. Once they understand how the technology interacts with the body, they will begin to create small electronic implants that can stimulate neurons in so-called faulty brain circuits.
"We know that once you start putting stimulation into the brain, the brain will change in response," said Eddie Chang, a neurosurgeon at UCSF.