Mind over disability: Double amputee manages prosthetic arms by intuitive thought (VIDEO)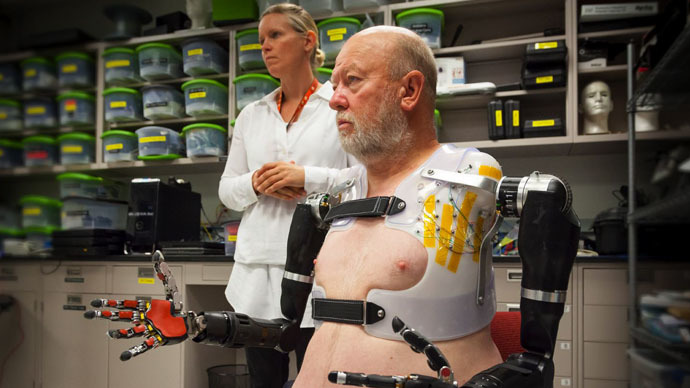 Mind-controlled robotic limbs have become a reality at America's John Hopkins University, after a double amputee Les Baugh managed his new prosthetic arms with completely intuitive thought control.
The breakthrough research by the Applied Physics Laboratory (APL) at the university in Baltimore, Maryland, was conducted with the help of the man from Colorado, who lost both his arms up to the shoulders in an electrical accident 40 years ago. Having worn and controlled two Modular Prosthetic Limbs (MPL), he became the first person in the world to operate two robotic arms just by thinking about moving them.
"What really was amazing, and was another major milestone with MPL control, was his ability to control a combination of motions across both arms at the same time. This was a first for simultaneous bimanual control," APL's Courtney Moran, a prosthetist working with Baugh, said, adding it was "significant because this is not possible with currently available prostheses."
READ MORE: First mind-controlled prosthetic arm can hold egg without smashing it (VIDEO)
Before having the MPL wirelessly integrated into his body, Baugh undergone a surgery, known as targeted muscle reinnervation, which reassigned the nerves that once controlled the arms and hands.
"By reassigning existing nerves, we can make it possible for people who have had upper-arm amputations to control their prosthetic devices by merely thinking about the action they want to perform," Johns Hopkins trauma surgeon Albert Chi said.
READ MORE: Nerve implants make bionic hand feel almost real
The man then trained with the virtual reality system, that mimicked the actual prosthetic arms. "They made me a computer to control that arm," Les Baugh said, impressed with his new abilities. He was then fitted with a custom socket for his torso and shoulders, which supports the robotic limbs and make the neurological connections with the nerves.
READ MORE: FDA approves robotic exoskeleton to help paraplegics walk again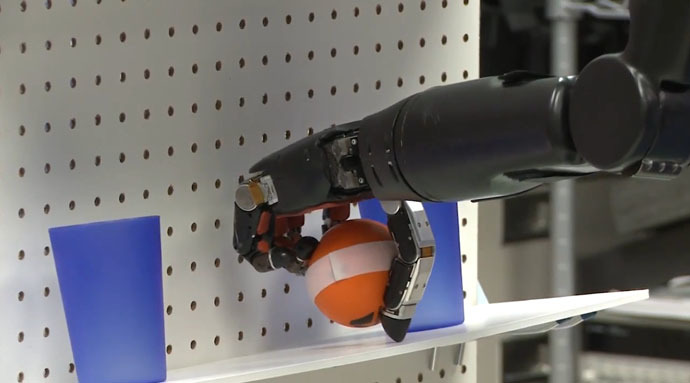 After being able to grab a ball and place it in a cup on an upper shelf with his new bionic arms, the man said he "just went into a whole different world." "Maybe for once I'll be able to put change in the pop machine and get pop out of it," he added.
The MPL technology has been developed over the past decade as part of the Revolutionizing Prosthetics Program, and the APL-funded research has plans to expand its usability.
READ MORE: Star Wars-style robotic arm approved for mass production
"It's like the early days of the Internet. There is just a tremendous amount of potential ahead of us, and we've just started down this road. I think the next five to 10 years are going to bring phenomenal advancement," Revolutionizing Prosthetics program manager Michael McLoughlin said.
You can share this story on social media: