​Nerve implants make bionic hand feel almost real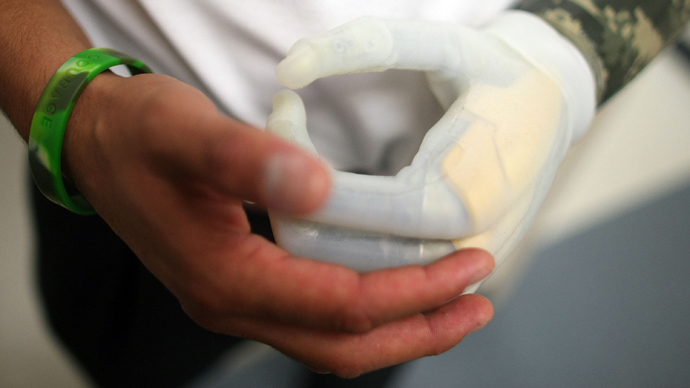 A man who lost his hand a decade ago can now feel it again, thanks to complex surgery which implanted electrodes into nerves in his upper arms. The implants give feedback from pressure sensors in the prosthetic hand, which his brain processed naturally.
"I didn't realize it was possible," said Dennis Aabo Sørensen from Denmark, who underwent the implant surgery in Italy and spent a month in a lab describing his experiences with the novel prosthetic to an international team of scientists. "The feeling is very close to the sensation you get when you touch things with your normal hand."
To restore feeling, surgeons at Gemelli Hospital in Rome implanted four electrodes into the ulnar and median nerve bundles in Sørensen's upper arm. The bundles normally transmit signals from four of the hand's five fingers, with the exception of the thumb.
The implanted electrodes were connected to pressure sensors on the fingertips and palm of a robotic prosthetic hand. The connection ran through cables outside of the patient's arm. Special software was developed to interpret the electric signals from the sensors into a form that the human nervous system can understand. The team detailed its work in the journal Science Translational Medicine.
The resulting feedback was good enough for Sørensen to tell the difference between sensations ranging from the slightest touch to that just below the pain threshold. He said it was very natural and close to how his real hand feels.
In the lab Sørensen could differentiate objects held in the prosthetic hand by touch alone. While wearing a blindfold, he could tell whether he was holding cotton wool, a plastic cup or a block of wood about 90 per cent of the time.
"With my existing prosthesis I always have to look at what I'm doing with it," he said. "It's an amazing product. I'd take one tomorrow if I could."
The technology, however, is far from available on the market just yet. Sørensen had to undergo a second operation after his lab test, because regulations preclude the keeping of implanted electrodes for longer periods.
The developers are yet to establish how well the electrodes will keep without deterioration in the long run, although Sørensen's result was promising and gives hope that the electrodes will function for several years without causing harm.
There is also an issue of miniaturization. All the equipment and cabling would have to fit inside a prosthesis to be practical.
You can share this story on social media: