World's 1st 'feeling' prosthetic leg unveiled in Austria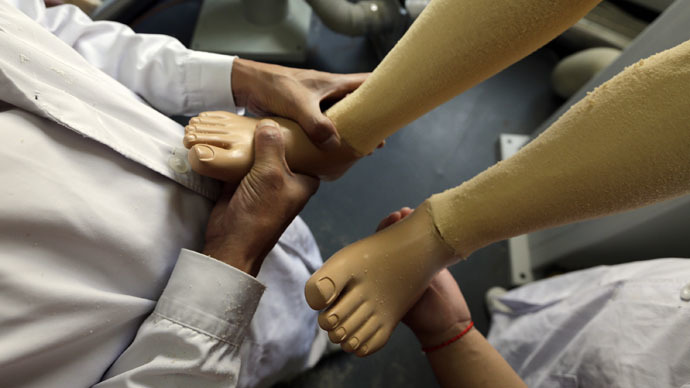 Researchers in Vienna have pioneered the first artificial leg capable of transmitting feelings to the brain like a real limb. It also stops phantom pain, a condition that many amputees suffer from.
The invention is the work of Professor Hubert Egger, from the University of Linz, Austria, who in 2010 also unveiled a mind-controlled prosthetic arm, AFP reports.
The leg works by fitting six sensors to the sole of a lightweight prosthesis and then connecting these to the remaining nerve endings in a patient's stump, which are in turn rewired to healthy tissue in the patient's thigh.
"In a healthy foot, skin receptors carry out this function but they are obviously missing here. However, the information conductors – the nerves – are still present, they're just not being stimulated," Egger said.
"The sensors tell the brain there is a foot and the wearer has the impression that it rolls off the ground when he walks. All things considered, the procedure is a very simple one given the results."
Wolfgang Rangger, a former teacher who lost his right leg after suffering a cerebral stroke, and who has spent the last six months trying out the new leg, says it has completely changed his life.
Bionic breakthrough: Mind-controlled prosthetic leg can read thoughts, subconscious intentions http://t.co/rL7dk7DTfJpic.twitter.com/07OXN80jcB

— RT America (@RT_America) May 22, 2015
"It's like a second lease of life, like being reborn. It feels like I have a foot again. I no longer slip on ice and I can tell whether I walk on gravel, concrete, grass or sand. I can even feel small stones," he said.
When he walks around the artificial limb is hardly noticeable and he is also able to run, cycle and even go climbing.
But as well as making him much more mobile, the new prosthesis has also wiped out the excruciating pain Rangger had experienced for years after his leg was amputated.
"I was barely able to walk with a conventional prosthesis, I didn't sleep for more than two hours a night and needed morphine to make it through the day," Rangger said.
Egger met Rangger at a support group for amputees.
"Rangger is a very different person now to the one I met in 2012," Egger said. "It struck me that he never laughed and he had these dark rings under his eyes. It was awful."
The phantom pain Rangger was suffering from happens because the brain still tries to receive information about the missing limb and becomes increasingly more sensitive as it keeps reliving a traumatic experience linked to an accident or illness, which resulted in the loss of the limb.
#DARPA wants to develop prosthetic arms that let vets 'play catch' with their kids again http://t.co/tK7pPSpG5Mpic.twitter.com/3uXb00H68N

— RT America (@RT_America) February 11, 2015
Once the brain starts receiving data from the "feeling prosthesis," then it stops its frantic search.
Recovery after surgery to fit the artificial limb is quick and it has no known health risks. The only danger is that the nerves don't connect properly and no feelings return.
The feeling prosthesis costs between 10,000 and 30,000 euros, depending on an individual's needs, so is not cheap, but Egger hopes small companies will join his venture to help bring down the price.
Technology in prosthetic limbs has made significant advances in recent years. Science magazine reported in May that Erik G Sorto, who became disabled after being shot when he was 21, underwent clinical trials to move robotic limbs through his thoughts, which through an algorithm decoded them to use a robotic limb.
The technique was developed by Caltech, Keck Medicine of the University of Southern California (USC), and Rancho Los Amigos National Rehabilitation Center.
"We implanted two micro-electrode arrays in his brain and the arrays would record directly from the firing of the neurons or the ells in the brain," said Charles Y. Liu, a neurosurgeon at Keck Medicine, USC. "These recordings would be decoded by algorithms, these decoding algorithms would then be used to move a robot arm just with his thoughts."