'A person full of energy who had much to offer': 1,000 mourn black teen shot by Texas officer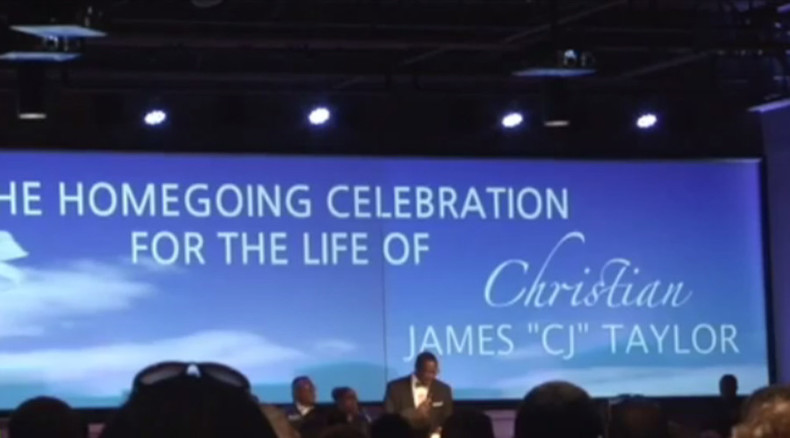 More than 1,000 people have attended the funeral to mourn Christian Taylor, the 19-year-old black teenager who was shot down by a white police officer in Texas. The teen was unarmed at the time of the incident.
Adrian Taylor, the victim's brother, said tearfully that Christian was "a competitor and a fighter who did not want to be left behind."
He added that Christian told him he wanted to change the world and be the next Martin Luther King, Reuters reported.
In the funeral program, the teenager's mother, Tina – who hasn't spoken publicly since her son's death – wrote a note to her Christian: "To know that you are resting with our Father is enough for me."
Among the mourners were the 19-year-old's football teammates from Angelo State University, and they spoke of him as a person full of energy who had much to offer.
"They made the five-hour trip from San Angelo … to support Christian's family and loved ones and to help work through their grief over the loss of their teammate and friend," a statement from the university read.
Ronnie Goines, senior pastor of the Koinonia Christian Church, said during the ceremony that Taylor was also devoted to religion.
"He was on fire for the Lord," he said, adding that the officer was too fast to open fire at the unarmed teenager.
The teenager's family and friends told The Dallas Morning News earlier this week that shortly before his death, Christian started going to church and writing in text messages about love for God and his family.
Taylor was shot and killed on Friday, August 7, at a car dealership in Arlington, Texas. Security camera footage from the dealership shows that Taylor drove his SUV through the front window of the showroom at around 1 a.m. Six police officers responded to the burglary call. One of them was Brad Miller, 49, who was still in field training.
After confronting Taylor on his own, Miller fired four shots at the unarmed teenager, who died from gunshot wounds to the neck, chest and abdomen.
READ MORE: Texas cop fatally shoots 19-year-old black college football player
On August 11, the Arlington Police Chief Will Johnson sacked Miller, citing "poor judgment" and "questionable decision-making" in the incident that led to Taylor's death.
Family and friends say they don't know what caused Taylor's behavior.
"You know, it could have been too much drinking, he could have been wrong place at the wrong time, he could have gotten something and he didn't know what he was getting," Taylor's father, Adrian, told KTVT after the shooting.
"What he'd done, ain't no way right," he said. "But to shoot an unarmed man? You're a police officer, you're trained to take down men with your hands. You have your Tasers, you have your clubs, whatever there is. Unarmed, a 19-year-old – and you shoot to kill?"
READ MORE: Ferguson 1 year on: 'Anti-police-brutality movement grown really powerful'
The killing of Christian Taylor happened just two days before the one-year anniversary of 18-year-old Michael Brown's death in Ferguson, Missouri. Brown's death triggered a series of protests all over the US, conducted under the banner of "Black Lives Matter."