Florida cop placed on leave for treating homeless man like circus dog (VIDEO)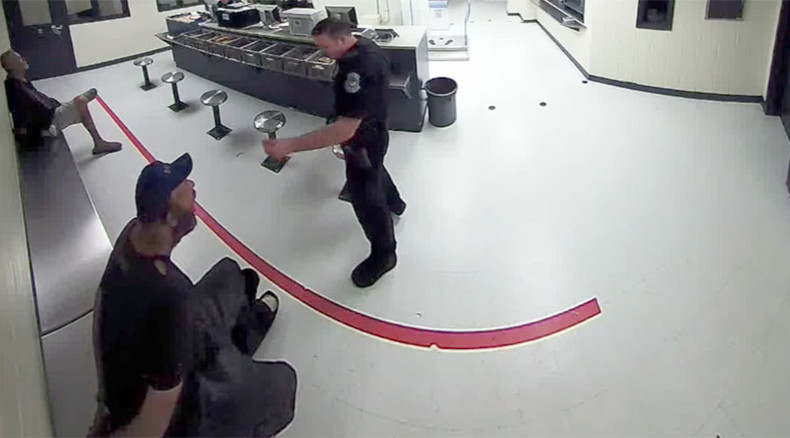 A Florida police officer has been placed on administrative leave after a shocking video surfaced showing him throwing peanuts at a handcuffed homeless man as if he were a circus dog.
The incident happened when police officer Andrew Halpin was booking Randy Miller at the Sarasota County Jail on July 18 for trespassing at a convenience store.
The 2.39-minute police surveillance camera footage, which surfaced Monday, captured Officer Halpin tossing a peanut at Miller, which the homeless man cannot catch as his hands are handcuffed behind his back as he sits on the booking bench.
Miller starts to look for the missing peanut on the floor as Halpin tosses another peanut, which Miller this time catches in his mouth, to the seeming delight of Halpin.
Four other peanuts are tossed. Some reach Miller's mouth and some fall to the ground. Then Miller slumps off the bench and starts eating peanuts off the floor.
The video shows that Miller and Halpin are not alone in the room. There are three other police officers present who witness what Halpin is doing, and also another man on the bench waiting to be booked.
A jump cut in the camera footage shows Miller still on the floor looking for peanuts as Officer Halpin kicks the nuts over to him.
READ MORE: Florida police officer suspended after slapping homeless man
This is no sound in the surveillance camera footage, acquired by the Herald-Tribune via a public records request. A source told the paper that Halpin was prompting Miller with "dog commands" during the incident.
The Sarasota Police Department was unaware of what had happened until notified by the newspaper.
"Based on the actions in the video, I immediately initiated an internal investigation on Officer Halpin," Police Chief Bernadette DiPino told the Herald-Tribune. "I'm disappointed in what I observed in the video, and placed the officer on administrative leave, pending the outcome of the investigation."
She added that she couldn't comment any further until the internal investigation had concluded.
The Herald-Tribune reported that Halpin might not be the only officer facing discipline.
READ MORE: Miami cop kills homeless man in park in front of dozens of kids
The vice president of the American Civil Liberties Union of Florida, Michael Barfield, wasn't surprised by the incident.
"It's this kind of egregious conduct that gets Sarasota labeled as the 'Meanest City in the USA towards the homeless," Barfield told the Herald-Tribune.
"Florida law allows for enhanced penalties when crimes are committed that show prejudice against the homeless. Instead of wrist-slapping officers, Chief DiPino and the State Attorney's Office need to send a message that this conduct won't be tolerated."