Miami cop kills homeless man in park in front of dozens of kids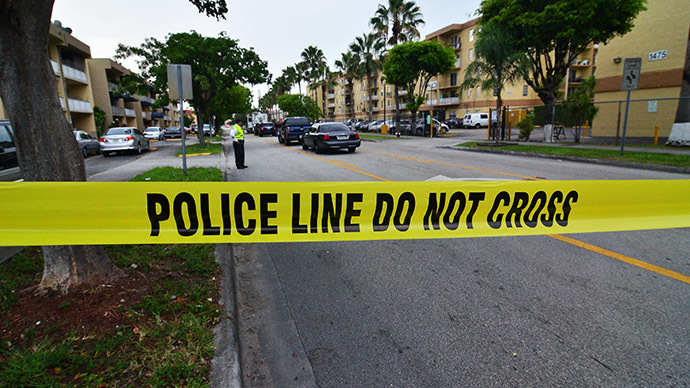 A Miami police officer shot and killed a homeless African-American man in front of up to 60 witnesses including children attending summer camp. Police officials said the violent suspect refused to drop a metal pipe he was holding.
Miami Police Chief Rodolfo Llanes said officers were responding to a report of a violent dispute on Thursday morning. He said several dozen people were in Gibson Park, many of them children, who may have witnessed the events that unfolded.
"I understand the anxiety that's been created across the country from police-citizen interactions, but I would ask that everyone, wait for the facts of the case and not make up your own story," Llanes told reporters. "We will know what the facts of the case are."
The chief added that the officer involved in the shooting, who is a 20-year veteran of the department, will be reassigned to administrative duties pending the investigation's outcome.
READ MORE: Video of Salinas cops brutalizing suspect looks 'horrific without context' - police chief
Upon arriving, police say they found a man holding a three-foot metal stick and shot him five times after he refused to drop it. He was then transported to a nearby hospital but later died of his injuries, according to the Miami-Dade County Herald.
The man was named as Fritz Severe, 46, who according to the Miami Herald, has a lengthy criminal past with convictions for violent and non-violent offenses in different jurisdictions.
A witness told the CBS4 news outlet that while the man did not drop the stick when ordered, he was not threatening the officers. Stephanie Severance said she was shocked when she heard the shots and later realized the bullets were fired at a homeless man she saw every morning and the man who shot him was a Miami Police Officer.
"He stopped the man, the man had the metal stick, pointed at him, the next thing you know the man shot him," Severance said.
READ MORE: 'Out of control' McKinney police officer who drew gun on teens at pool party quits
Several witnesses were distraught that the officer did not use a Taser instead of a gun. Llanes said not all officers carry Tasers as they have to be certified. He would not say whether the officer who pulled the trigger was carrying a Taser.
READ MORE: Probable cause found to charge cops with murder & negligent homicide of Tamir Rice
Police said they were called by a park worker who asked them to remove the homeless man because he was a threat to the children in Gibson Park. The park has a public swimming pool and athletic fields and was being used by several dozen children attending a summer camp, some of which witnessed the shooting.
"We have anywhere from 40-60 witnesses that we have to interview, some of them being kids. This is going to be a long investigation because FDLE [Florida Dept. of Law Enforcement] have to put together all those witness statements," Police Chief, Rodolfo Llanes told reporters.
He said the mechanics of the confrontation will not be known until the witnesses are interviewed. A reporter asked the Llanes if police officers are trained to handle things differently when in close proximity to children.
"Unfortunately officers can't pick where the confrontation happens so officers are trained to be aware of their surroundings when they do discharge their weapons," he concluded.
You can share this story on social media: