Video of Salinas cops brutalizing suspect looks 'horrific without context' – police chief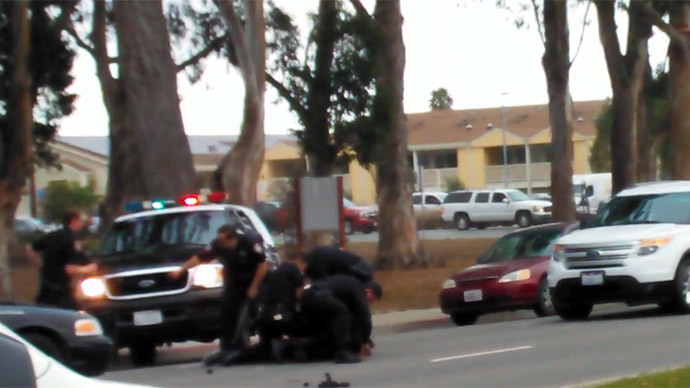 A police department in California is investigating graphic video footage of cops violently beating a suspect, who was allegedly mentally ill. While it appeared "horrific and inflammatory," Salinas's police chief says there were reasons for such force.
The minute-and-a-half footage shows Jose Velasco, 28, being struck repeatedly with batons, at least 20 times, by police officers while he lies struggling in the road for over 45 seconds. However, police say the video doesn't show what led up to the brutal beating on Friday, June 5.
From the clip, Velasco seems to be repeatedly hit on his head, legs, hands and back, while not seeming to be putting up much resistance. An officer, who arrived on the scene halfway through the clash, vigorously struck Velasco at least nine times. At one point, as many as five police officers are seen struggling with him as sirens from their vehicles wail.
The Salinas Police Department (SPD) said the officers were called to the scene following a report that Velasco had assaulted his mother and had been running into traffic. A SPD press release stated that two officers who initially responded to the incident "saw Jose Velasco slamming the female's body into the pavement of the northbound lane of North Main Street while heavy traffic was passing by."
"As the officers tried to get Velasco off of his mother by pulling him away, Velasco began to violently resist and attacked the officers," the statement says.
READ MORE: 'Out of control' McKinney police officer who drew gun on teens at pool party quits
Police said they tried to subdue Velasco twice with a Taser and also claimed that he grabbed the stun gun. The suspect then continued to "struggle and resist, eventually needing five officers and the use of batons to control and place into handcuffs."
Salinas Police Chief Kelly McMillin described Velasco as "a violent man assaulting his own mother." But when asked about the police officers' actions recorded in the video clip, McMillin conceded "it looks terrible."
"The video alone is horrific and inflammatory," the police chief told reporters, according to KBSW-TV. "Anybody who looks at that video without context would have concerns, because it looks terrible."
McMillin told the channel the repeated blows were done to get Velasco to force him to show both hands, in case he tried to reach for a weapon, and to handcuff him.
READ MORE: Police forecfully wrestle pregnant black woman onto belly for not showing ID (VIDEO)
Once restrained, police said Velasco was taken to a local hospital where he was chemically sedated. Police also said Velasco attempted to attack officers and paramedics en route to a hospital, and was later charged with assault with a deadly weapon, assault on an officer causing injury and resisting arrest.

Velasco's sister, Antoinette Ramirez, said her brother was mentally ill but police were wrong. "He didn't try to kill my mom," she said. "The cops had no right to keep hitting him, he was already on the floor."
You can share this story on social media: