3-foot alligator caught jaywalking in Manhattan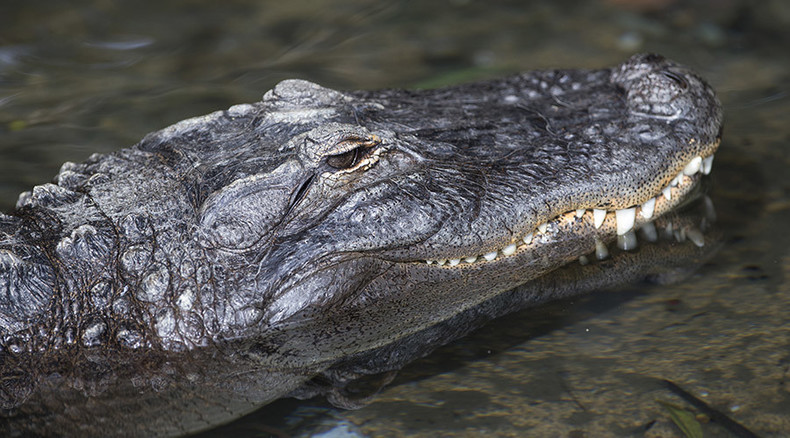 There is an urban legend that says alligators roam the sewers of New York. But for police officers, the legend suddenly developed teeth when they discovered a three-foot alligator trying to cross 205 Street and Ninth Avenue on Thursday afternoon.
Staff at the New York Animal Care Centers, where police took the gator, said it died Friday morning.
"We have no knowledge of the conditions [the alligator] had lived in prior to his arrival that contributed to his death," officials at the non-profit said, in a statement to the New York Daily News.
Medical staff said when the reptile arrived they "removed the duct tape that had been placed around its snout," and housed it in "an aquarium type setting with a small shallow pool of water along with a supplemental heat element."
Officials can only speculate as to whether the alligator had been an escaped pet, had been dumped, or "just came up river."
Police from the 34 Precinct took to Twitter about the incident.
In response a tweet asked whether it was a crocodile and an alligator and what was the difference?
Another tweet noted that at least it hadn't been shot.
The alligator apparently couldn't get a cab uptown, according to locals.
One man in the Inwood neighborhood, where the alligator was discovered, said he thought the creature "just came up the river" from the end of the street where a small park meets the Harlem River.
"I came out real quick and there was a bunch of police officers outside and there was a little, small crocodile facing the gate," the man, Paul Perez, told 1010 WINS radio.
READ MORE: Armadillos spread leprosy & other reasons canoodling with cute critters could kill you
An animal rescuer, Sean Casey, told the New York Daily News the reptile appeared to be an American alligator, and at three-foot it was probably between one and two-years-old.
READ MORE: New York's JFK airport to get fancy animal 'terminal'
As for the myth of alligators roaming the sewers of the city, specialists say the conditions are too hostile for reptiles which require warmth. But an eight-foot alligator was discovered at the bottom of an East Harlem manhole, reported The New York Times in 1935. It was theorized the gator fell off a steamer visiting the northeast "from the mysterious Everglades, or thereabouts," and it proceeded to swim up the Harlem River.