'Who are we bombing?' Jon Stewart grills Obama over Iran deal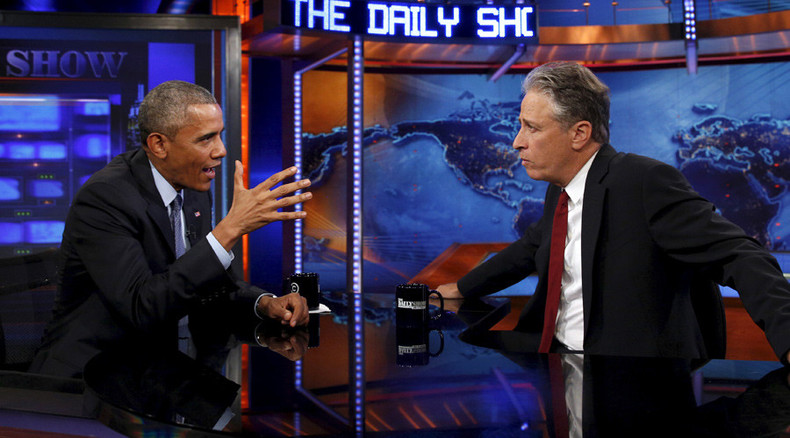 Barack Obama used his last appearance on 'The Daily Show' to defend the Iran nuclear deal and his other achievements. Jon Stewart suggested diplomacy might work better than failed US tactics of bombing, invasion and regime change.
"Whose team are we on in the Middle East?" Stewart, host of the popular comedy program for over 16 years, asked the president. "Who are we bombing?"
Stewart pointed out that the US was de facto fighting alongside Iranian-backed groups against Islamic State militants in Iraq, while backing Saudi Arabia's campaign against pro-Iranian rebels in Yemen.
"That's not quite right, but that's OK," Obama replied, chuckling. There was a multinational coalition confronting the militants, which he referred to by Washington's preferred acronym, ISIL. While ISIL is a current US priority, Obama said, that does not change the White House's position on Iran.
"This is an adversary," Obama said of Iran. "They are anti-American, anti-Israel, anti-Semitic, they sponsor terrorist organizations like Hezbollah."
Iran is "still going to cause problems in various areas," and the US will have to work with "core allies" like Israel and the Gulf countries to make sure Iran isn't sponsoring terrorism or destabilizing other countries. "But we will have taken off the table what would be a catastrophic strategic problem if they got a [nuclear] weapon," Obama explained.
Stewart went along with the president's explanation, pointing out that the US has tried invading and occupying a country (Iraq), bombing and regime change (Libya) and arming militants (in Syria), without achieving the desired outcome.
"But this new thing, you called it earlier… diplomacy! That sounds interesting," Stewart said.
"We might as well try it, see what happens," Obama replied.
"But we still get to bomb people at some point?" joked Stewart.
This was Obama's seventh appearance on the Daily Show, and third as president. He was the first sitting US president to be interviewed on the comedy program, in 2010.
The Daily Show is widely regarded as an influential political platform, due to its popularity with the younger Americans – a success greatly attributed to Stewart's hosting and the show's liberal political bend.
Stewart took over the show in 1999, and is scheduled to retire in August this year. Obama joked about issuing an executive order preventing Stewart from retirement, but said it was "being challenged in the courts."
In an extended interview, posted on the show's website, Stewart grilled the president about the scandal-ridden Department of Veterans' Affairs (VA) and other government agencies falling short of their promises.
"Government works better now than it probably ever has, given what we ask it to do," said Obama, defending the administration he argued was short on resources and understaffed.
"You start a lot of wars, it's going to add people," Stewart said, pressing the point.
Acknowledging the VA was failing veterans, Obama maintained things were improving. Government, he said, was working better now than when he took office.
"But government is a human enterprise," he added, which means that "somebody, somewhere is screwing up at any given time."