Iraq tops 'most dangerous' place in world list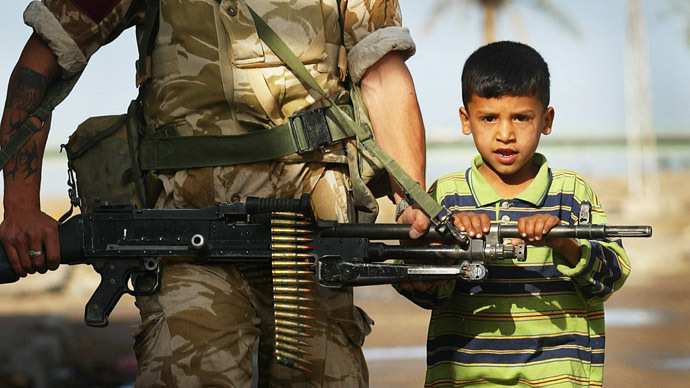 Iraq is the most dangerous place in the world for civilians to live, according to new figures from the UK based monitoring group Action on Armed Violence (AOAV). Syria, Gaza, Nigeria and Pakistan round out the top five.
Unenviably occupying the top spot for most civilian fatalities and injuries, Iraq has seen a renewed surge in violence since the rise of Islamic State (IS, formerly ISIS/ISIL).
More than 10,000 civilians have been killed or injured by explosive devices, including car bombs, roadside bombs and other IEDs, making Iraq the most dangerous nation on the planet for the second year running.
Countries or regions which have endured sustained conflict, such as Syria and Gaza, also made the list of 10 'most dangerous' released as part of a wider AOAV report on Monday.
Afghanistan, Ukraine, Yemen, Lebanon and India also feature in the list.
Seven of the top 10 are in the Middle East, with Ukraine, Nigeria and India the only counties situated elsewhere.
READ MORE: 'Revolution within revolution': How and why Kurdish women are fighting ISIS (DOCUMENTARY)
AOAV's report documents the number of civilians killed or injured by explosive devices, the number of incidents in which civilians were harmed, the types of weapons used in attacks and whether they were caused by governments or militia groups.
'Explosive violence' was responsible for over 80 percent of civilian deaths in Syria during 2014. It experienced 43 percent of all aerial bombing worldwide that year.
The civil war, which has stretched into its fifth year, has taken the lives of more than 220,000 Syrians according to the most recent figures, with unofficial sources claiming the figure may be as high as 315,000.
Speaking to RT, AOAV Senior Weapons Researcher Robert Perkins said the figures show there is "always a market for the trade in explosive weapons, always someone who wants to sell them, and always someone who wants to buy them."
Despite the Arms Trade Treaty (ATT) coming into force at the start of the year, historical arms trade agreements made before the ratification of the treaty continue to provide states with ammunition frequently used on civilians.
"Most of the bombs, rockets and shells driving recent civilian harm were actually traded years, even decades before, so it's not likely that the ATT will have an immediate impact," Perkins added.
On Friday, a Ministry of Defence (MoD) spokesperson confirmed to RT that the British government had supplied Saudi Arabia with "precision guided weapons" currently used against Yemen, where there were nearly 2,000 casualties in the past year, according to AOAV figures.
READ MORE: Global terrorism deaths nearly doubled in 2014 - US State Dept.
Andrew Smith of Campaign Against the Arms Trade (CAAT) told RT Western governments have traded arms with other nations on AOAV's list, including Iraq, Afghanistan and Pakistan.
He also said 80 percent of weapons used in Syria were Russian traded.
"It is always civilians who pay the price of war. The scenes of violence and brutality in Iraq show that 12 years on from the original invasion the situation is just as bad. The humanitarian situation in these countries is only being made worse by the steady flow of weapons and the legacy of wars and conflicts," Smith told RT.
"The first thing that large arms exporting nations, such as USA, Russia, France and the UK, should do is end all military exports to these countries and stop selling weapons to conflict zones and repressive regimes."
AOAV researcher Jane Hunter, who worked on the report, told RT that halting the use of explosive weapons was the "single most important step that governments could take to protect civilians from the horrors of war.
"The UN has called for a new political commitment, and AOAV urges governments to come together to build stronger international standards against this terrible pattern of harm" she added.
Perkins is optimistic the governments can implement policies to reduce the threat posed to civilians by explosive weapons.
"The threat from IEDs is so widespread and diverse that it is hard for people to see a path to tackle their impact. But there is actually a lot that can be done," he said.
"AOAV wants more done to limit the supply of chemicals and materials that are used to make homemade bombs, more coordinated efforts to track and document the problem, and more done to help the victims of IED attacks around the world."
You can share this story on social media: