Global terrorism deaths nearly doubled in 2014 - US State Dept.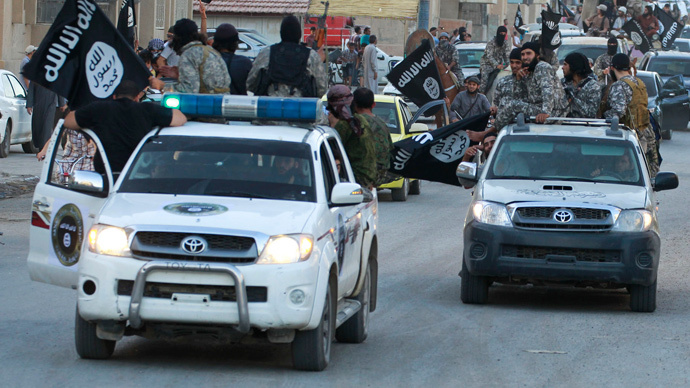 Terror acts rose by more than a third from 2013 to 2014, while deaths nearly doubled, says a new US State Department report. Boko Haram and the Islamic State (IS, formerly ISIS) were largely responsible for an increase in terrorist attacks.
The State Department's annual, congressionally-mandated global terrorism report found nearly 33,000 people were killed in about 13,500 terror attacks across the world in 2014. By comparison, in 2013, there were a reported 18,000 deaths amid nearly 10,000 terror acts.
Terrorism-associated kidnappings nearly tripled, going up from 3,137 in 2013 to 9,428 in 2014, the report said.
Attacks in Iraq, Afghanistan, and Nigeria led the surge in terror violence in 2014, according to statistics compiled for the State Department by the National Consortium for the Study of Terrorism and Responses to Terrorism at the University of Maryland.
Terror attacks occurred in 95 countries in 2014, yet most happened in the Middle East, South Asia, and west Africa. Iraq, Pakistan, Afghanistan, India, and Nigeria made up more than 60 percent of attacks, the report said.
READ MORE: Jihadi groups unite: Boko Haram changes name to Islamic State's West African Province
Twenty-four Americans were killed in terror attacks in 2014.
The report found that there was a rise in mass, lethal attacks in 2014, with 20 attacks killing more than 100 people each. There were only two such assaults in 2013.
Among the 20 mass attacks was a Pakistani Taliban assault on a Peshawar school in December that killed at least 150 people and the Islamic State's killing of 670 Shiite prisoners held at a prison in Mosul, Iraq in June.
Jihadist groups Islamic State and Al-Nusra Front – an Al-Qaeda associated group in Syria – as well as Boko Haram in Nigeria accounted for the spike in terror-related kidnappings. Nearly 1,300 kidnappings in Nigeria in 2014 were attributed to Boko Haram, a Sunni fundamentalist organization, compared to fewer than 100 incidents in 2013.
READ MORE: US 'overreacted' to 9/11 – Oxford vice-chancellor
The report noted Islamic State's "unprecedented seizure" of territory in Syria and Iraq in 2014, as well as the group's recruitment abilities and expansion into the likes of Libya, Egypt, and Nigeria. The report also noted a rise in "lone wolf" attacks in the West.
The State Department's terrorism report is a supplement to its annual "Country Reports on Terrorism," a legally required analysis of terrorist attacks and trends from the previous calendar year.
You can share this story on social media: