Britain's terror threat greater due to 'lack of trust' among EU allies – study
Published time: 14 May, 2015 15:20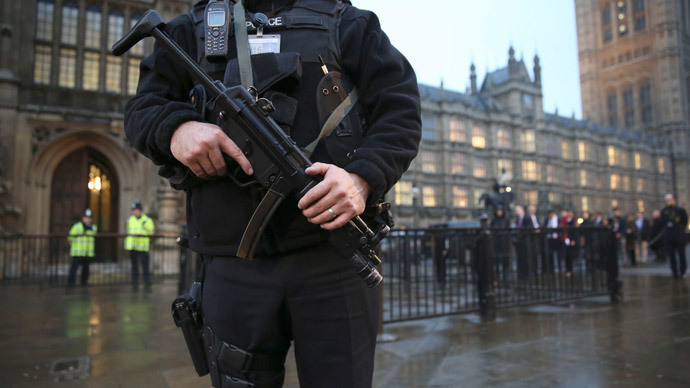 Tension between European Union (EU) member states has led to such low levels of trust that British efforts to fight domestic and international terror threats have been compromised, a new report suggests.
Vital information that could help tackle terror threats across Europe is currently being withheld by EU member states. Instead they are advancing their nations' interests rather than those of the greater European Union, academic researchers say.
The researchers claim to have uncovered a considerable absence of trust, which is skewering cross-border co-operation in the fight against global terrorism.
READ MORE: 'Broadest spying powers imaginable': SNP MPs plan to block Tory Snoopers' Charter
Co-authored by Dr Aldo Zammit Borda of Anglia Ruskin University, Dr Cian C. Murphy of King's College London, and Lucy Hoyte, the report says cross-border intelligence efforts are also hampered by issues of complexity, "legitimacy and fairness."
Published on Thursday, the study was funded by the EU's Framework 7 program – a European-wide research and development initiative.
The researchers focused specifically on counter-terror finance initiatives, the European Arrest Warrant and border control databases across Europe.
They spoke directly with 26 counter-terror operatives from various EU nations. Among these were prosecutors, financial intelligence officers, police, and border control guards, according to Zammit Borda.
The report found EU states' failure to share intelligence and cooperate adequately on a daily basis means terrorists working for the so-called Islamic State and other extremist outfits are falling under the radar of other EU member states.
READ MORE: 'The game is up': Home secretary urges British Muslims to tackle extremism
Border control experts throughout the EU told the academics that low levels of mutual trust directly impact upon the degree of information that is shared between EU member states' databases.
One law enforcement officer from Greece said trust among EU states is so low states fail to share vital information with one another.
"The states or the organizations in the state don't trust the others, don't trust the users and don't share the ... important information in database[s]," he told the researchers.
"Many states ... use bilateral exchanges and don't use the databases especially in terrorism matters."
"They prefer it, because they don't trust it to put their data in the databases of international organizations – or in [the] EU organization."
Others who participated in the research said concern about the mounting complexity of border control databases is widespread.
One such participant expressed particular concern with the Schengen Information System (SIS), a database shared by 27 EU states.
"We are trying to have over 70 million [records] in five years – more or less – finger prints, pictures, some kind of biometrics data," he said.
READ MORE: 'Europe will face a 9/11 within two years' – Colonel Gaddafi's cousin
Dr Aldo Zammit Borda, a senior lecturer in law at Anglia Ruskin University who co-authored the report, said counter-terror operatives are fully aware of the importance of trust with respect to intelligence sharing.
He argued a lack "of common threat perceptions and objectives" in tandem with "clumsy [EU] institutional frameworks" has eroded the EU's counter-terror policy objectives.
Zammit Borda said many counter-terror operatives, which include intelligence officers across Europe, are "oblivious of the scale of personal data stored on EU databases."
He noted conflicting tensions between human rights concerns and "effective security" was a recurrent theme in interviews he conducted with these individuals.
"Some of the operatives questioned whether policies introduced in the aftermath of 11 September 2001 are effective and fair today," he said.