'Broadest spying powers imaginable': SNP MPs plan to block Tory Snoopers' Charter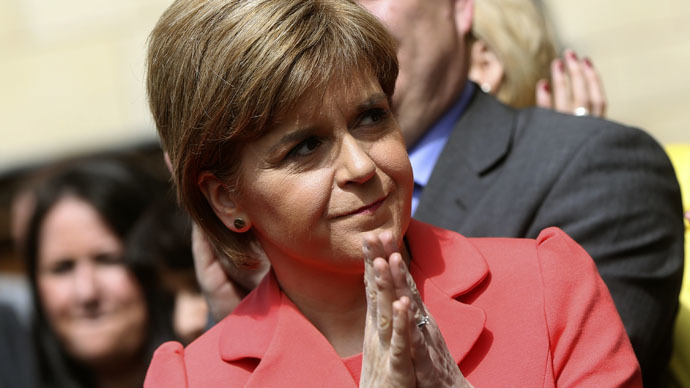 Scottish Nationalists are hoping to use their newfound parliamentary leverage to block controversial Tory plans to introduce legislation that would see the further erosion of privacy rights across the UK.
As they enter parliament, Scottish Nationalist Party (SNP) MPs are planning to rail against Tory plans to revive a Data Communications Bill dubbed the Snoopers' Charter.
They hope to achieve this goal by lobbying moderate Tories, who previously opposed Home Secretary Theresa May's surveillance agenda.
READ MORE: Erosion of free speech? Cameron pledges to ban Snapchat and WhatsApp
Among the Conservatives the Scottish Nationalists could court is senior Tory backbencher David Davis. Davis triggered a by-election in 2008 over Tory proposals to introduce a policy shift that would see terror suspects detained for up to 42 days without trial.
Speaking to the Telegraph on Tuesday, an SNP MP said surveillance falls into a "tricky civil liberties space for the Conservatives where there are fault lines.
"We think the mass collection of data is wrong. There is a line beyond which it is unacceptable for civil liberties can be impinged," he added.
'Suspicionless surveillance'
On Friday, Home Secretary Theresa May told the BBC that ramped up surveillance powers are a "key example" of Tory policy that was blocked by the Liberal Democrats during the previous parliament.
May's announcement angered privacy rights campaigners who warn of the erosion of civil liberties in an era of mass surveillance.
The Snoopers' Charter would pave the way for internet and mobile phone firms to retain records of customers' online browsing habits, use of social media, emails, text messaging and voice calls.
In a climate of increased terror threats, the Conservatives argue it would aid British security officials in monitoring online activity and protect the national interest in the process.
However, the European Court of Justice ruled against the legislation last April, warning it would result in human rights violations. The Court outlined a more moderate data retention program at the time that would aid criminal investigations.
READ MORE: 'Snoopers' Charter' essential to counter terror threat – Home Secretary
Nevertheless, in July 2014 it emerged the government was seeking to push through emergency legislation, which would flout the Court's judgment and re-legislate for the blanket retention of data.
As a single majority government, the Conservatives are expected to ramp up online surveillance powers swiftly.
The SNP's opposition to these plans will likely be mirrored by Labour and the Lib Dems. Should a few dozen Conservative MPs back their thinking, May's plans to revive the Snoopers' Charter could be unravelled.
Speaking to RT on Tuesday, Privacy International's Legal Director Carly Nyst said the Snoopers' Charter would give UK authorities some of the "broadest spying powers imaginable.
"These powers are nothing short of blanket, suspicionless surveillance of everyone who uses the internet," she said.
"Should the Snoopers' Charter be made law, Britons can expect to have every single website they visit, late night phone call they make and embarrassing Google search they enter logged and retained for 12 months," she added.
READ MORE: Anti-terror police powers used against journalists denounced by UK Lord
Nyst predicted the SNP's opposition to the legislation would prove troublesome for May.
"The government has declared its strong intention to see this legislation through; however, it must first overcome strong opposition, not only from the SNP, but from ordinary people across the country," she said.
"It seems clear that the government is going to have a tough time selling to the British people the falsehood that in order for police in this country to do their job, the government needs to completely erode online privacy and expression."
Privacy rights & privacy wrongs
Prior to the general election, Britain's Open Rights Group lobbied stringently for parliamentary candidates to reform Britain's mass surveillance policies.
They demanded the incoming government alter the legal framework governing surveillance to protect citizens from intelligence agencies' snooping.
The group's Executive Director Jim Killock told the Guardian in April he believes privacy rights could be nullified within a decade if the Conservatives and Labour don't pursue a different approach to surveillance.
READ MORE: Snowden says Australia watching its citizens 'all the time,' slams new metadata laws
Killock also noted that NSA whistleblower Edward Snowden's disclosures on GCHQ mass surveillance had little impact on snooping policy from London to Washington.
Classified US documents leaked by Snowden in 2013 caused international outrage when they uncovered the invasive nature of joint UK-US surveillance programs.
The NSA whistleblower's disclosures revealed US and UK authorities' ongoing scrutiny of Britons' email activity, social network records, web browsing history and mobile phone data.
Tory plans to ramp up mass surveillance in Britain come almost 12 months after a poll revealed widespread opposition to state-sponsored snooping in Britain.
The survey revealed the vast majority of those questioned thought that citizens' financial, medical, and credit information should remain private.
An overwhelming majority also believed web browsing, mobile phone, telephone and email records should remain beyond the gaze of snoops.
You can share this story on social media: