US trained only 60 'moderate' Syrian rebels to fight against ISIS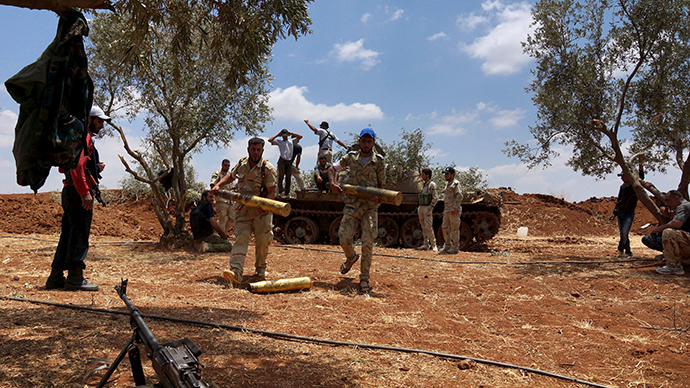 Only 60 recruits have passed rigorous background checks and are being trained to fight Islamic State forces in Syria, Defense Secretary Ash Carter told lawmakers. The US was hoping to have a force of 3,000 recruits by the end of this year.
Testifying before the Senate Armed Services Committee on Tuesday, Carter said that out of the pool of 7,000 volunteers for the train-and-equip program, less than one percent made it through the vetting process.
"As of July 3, we are currently training about 60 fighters," Carter said. "I can look out at your faces and you have the same reaction I do, which is that that's an awfully small number."
SecDef Carter admits 60 isn't an "impressive" # of recruits to fight #ISIS in Syria. "It's going to take some time to get the numbers up."

— Kate Brannen (@K8brannen) July 7, 2015
Congress approved $500 million last December for a program that envisioned creating a 15,000-strong fighting force of "moderate" Syrian rebels by the end of 2017. Training camps were set up in Turkey, Jordan, Saudi Arabia and Qatar. Though Pentagon officials said they hoped to have 3,000 fighters trained by the end of 2015, and up to 5,400 by May 2016, at current rates those goals don't appear very realistic.
READ MORE: 'This will not be quick': Obama on Islamic State strategy
The revelation comes a day after President Barack Obama visited the Pentagon and spoke about the long struggle the US intends to wage against Islamic State (IS, also known as ISIS/ISIL).
"This will not be quick," Obama said at a press conference. "This is a long-term campaign. ISIL is opportunistic, and it is nimble. In many places in Syria and Iraq, including urban areas, it's dug in among innocent civilian populations. It will take time to root them out. And doing so must be the job of local forces on the ground with training and air support from our coalition."
Finding those "local forces on the ground" seems to be the problem. Testifying alongside the Chairman of the Joint Chiefs of Staff Gen. Martin Dempsey, Carter told the senators that few Syrian volunteers were able to pass the rigorous vetting process, from physical tests to background checks.
The process, Carter explained, involves a "counterintelligence screening" to make sure any recruits "meet standards prescribed by US law."
"We make sure that they, for example, aren't going to pose a green-on-blue threat to their trainers; that they don't have any history of atrocities," he said.
Dempsey: we'd like to see Assad go, but the State of Syria remain, without disintegrating. It's in everyone's best interest, esp. Syrian ppl

— Just Security (@just_security) July 7, 2015
The other issue was that Syrian volunteers would rather fight against the government of embattled Syrian President Bashar Assad than against IS, while Washington insisted on an "ISIL-first" strategy. Without a political structure in place to replace Assad, US officials feared that Syria could slip into chaos and end up like Libya, according to Politico.
"We are telling them that we are arming and training them in the first instance to go after ISIL and not the Assad regime. That's our priority," Carter told lawmakers.
On the other hand, President Obama's remarks yesterday suggested that the US viewed regime change in Damascus as a pre-requisite for victory over IS.
"In Syria, the only way that the civil war will end ‒ and end in a way so the Syrian people can unite against ISIL ‒ is an inclusive political transition to a new government without Bashar Assad ‒ a government that serves all Syrians," Obama said.
The confusion was briefly deepened by Obama's gaffe about the US training "ISIL forces," which the White House transcript corrected to read "ISIL [Iraqi] forces."
It is not surprising that Washington is having a difficult time finding non-jihadist candidates for its proxy force in Syria, defense analyst Ivan Eland told RT. After years of warfare, the moderates have been "wiped out, or at least reduced greatly," and the remaining rebels have been radicalized.
"The real problem is getting a friendly ground force that's effective," said Eland, adding that fighting IS with air power is "virtually hopeless" without troops on the ground.
Committee chairman Senator John McCain (R-Arizona) blasted Obama for a "disturbing degree of self-delusion," in the Pentagon speech, adding, "None of the so-called progress that the president cited suggests that we are on a path to success."
You can share this story on social media: