US called for El Chapo's extradition before drug lord's prison break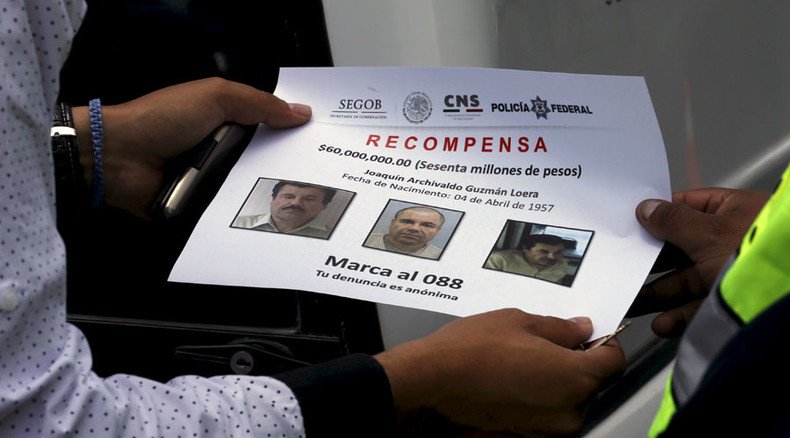 The Mexican government received an extradition request from the United States for Joaquin "El Chapo" Guzman, leader of the notorious Sinaloa Cartel, a government spokesman said. Guzman escaped from a high security prison outside Mexico City last week.
The extradition request was made on June 25 through a diplomatic note, the spokesman confirmed, according to Reuters. In January, the Mexican government said that, though it did anticipate an extradition request, it did not expect to release Guzman to US authorities.
Considered one of the world's most powerful organized crime bosses, Guzman was imprisoned in February 2014. Until his arrest, the US Treasury Department considered him "most powerful drug trafficker in the world."
Known as "El Chapo" ("Shorty"), Guzman made his getaway via a 1.5 km long tunnel that originated in his cell at Altiplano prison. Ten meters deep, the tunnel had ventilation, oxygen tanks, and stairs, leading to a house under construction. The officials also found a motorbike on rails, which was used to remove soil during the construction of the tunnel.
READ MORE: Notorious Mexican drug lord Guzman flees top security prison via 1.5km tunnel

Once it was discovered that the drug lord had escaped from his cell, it still took the prison authorities 30 minutes to raise the alarm. There are claims that Guzman may have paid $50 million in bribes to help him escape.
As of Thursday, 22 out of 31 prison employees were being questioned by police and are currently in custody. Authorities say Guzman's escape would have been impossible without some kind of inside assistance.
A video was released this showing the exact moment that El Chapo started his escape. On Tuesday, photos leaked to the press claimed to show the drug kingpin enjoying his freedom.
The Altiplano prison is considered the most secure prison facility in Mexico and was even equipped with underground sonar to detect any possible tunneling activities. It is believed that a sanctioned pipeline project on the perimeter of the jail likely provided cover for El Chapo's escape.
The Sinaloa Cartel has reportedly smuggled billions of dollars' worth of cocaine, marijuana, and methamphetamines into the United States, and fought brutal wars with rival Mexican cartels over turf and drug trafficking routes.
READ MORE: Alleged photos of Mexican kingpin Guzman enjoying life after escape leaked
Outside of drug charges, Guzman is wanted in the US for money laundering. He is also wanted by Mexico and INTERPOL, as a massive manhunt is underway to determine his whereabouts.
Captured in February 2014, El Chapo spent less than 16 months behind bars. He was captured once before, in 1993, only to escape from a federal maximum-security prison in 2001.
You can share this story on social media: