Video shows Mexican drug kingpin escaping maximum security jail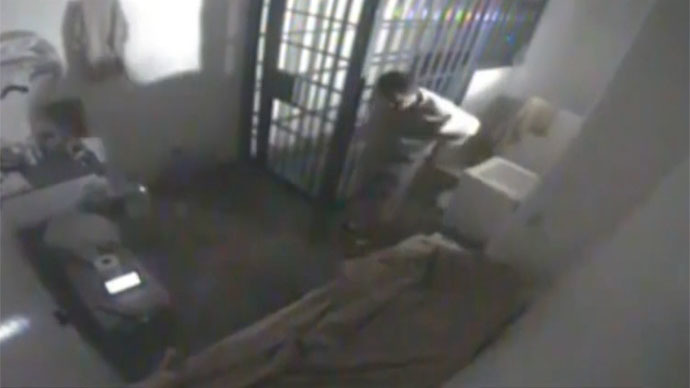 Mexican authorities have released the footage demonstrating the very moment the Sinaloa cartel boss, Joaquin 'El Chapo' Guzman Loera, made his daring escape from a highest-security prison. The search for the notorious drug lord goes on.
The video shows the prisoner walking around his cell for some time, apparently agitated, and then kneeling into what seems a shower zone.
After that, the inmate disappears.
The release comes just a day after the alleged photos of the drug kingpin showed him enjoying the newfound freedom were leaked online.
READ MORE: Alleged photos of Mexican kingpin Guzman enjoying life after escape leaked
"All the security forces of the state of Mexico are working in a coordinated manner to try to achieve quickly the capture of Guzman Loera," Mexican National Security Commissioner Monte Alejandro Rubido said on Tuesday.
The jail employees who were on duty at the time have been "presented to authorities to define responsibility in the case."
The drug kingpin fled the Altiplano maximum security prison in Almoloya, west of Mexico City, on Sunday.
A bounty of 60 million pesos (almost $4 million) has been placed on his head.
What the jail employees found when they went to check him out later, was a 0.5 meter-diameter hole in the shower floor which led into a 1.5km-long tunnel which had ventilation, oxygen tanks and stairs. It led to a house under construction. The officials also found a motorbike on rails, which had been used to remove soil during the construction of the tunnel.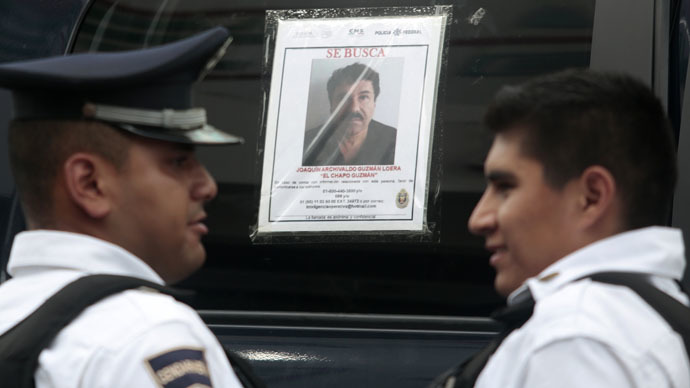 READ MORE: Biggest jailbreak ever? Mexican drug lord Guzman flees top security prison via 1.5km tunnel
The escape has been an embarrassment for the Mexican authorities, with Eric L. Olson with the Mexico Institute of the Wilson Center having branded it to the New York Times as "almost Mexico's worst nightmare."