​Alleged photos of Mexican kingpin Guzman enjoying life after escape leaked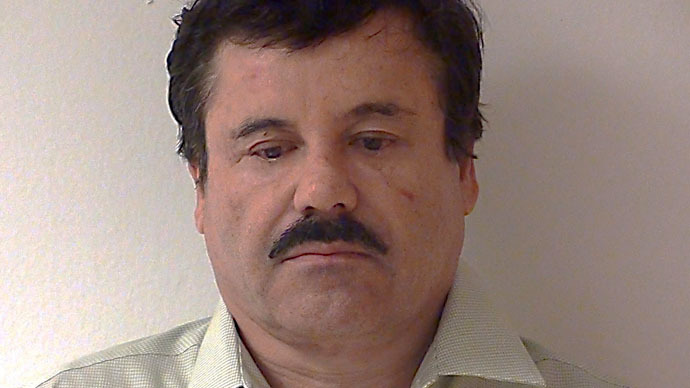 Two photos, allegedly of notorious Mexican drug lord Joaquin 'El Chapo' Guzman, who escaped the Altiplano high security prison on the weekend, have been leaked online.
The photos werepublished by ElBlogDelNarco, a blog about fighting drug crime in Mexico, and reportedly sent by one of his sons after the leader of the powerful Sinaloa Cartel escaped. In one Guzman is seen sitting in a plane cockpit while in the other he is relaxing with a bottle of beer in his hand.
This photo purportedly showing El Chapo Guzmán after Saturday escape published by http://t.co/j7A0227DIr Sunday. pic.twitter.com/lYvTjOq8Xm

— Tell Us Detroit (@TellUsDetroit) July 13, 2015
The legitimacy of the photos has not been immediately confirmed, with some questioning whether the Guzman family would put his freedom in jeopardy by providing more information about him. However one of his sons had apparently hinted on Twitter that his father would escape days before it happened.
Todo llega para quien sabe esperar.

— Iván Guzmán. (@lvanArchivaIdo) July 7, 2015
Meanwhile Mexican investigators detained for questioning almost 50 prison officials, suspecting that some of them may have aided Guzman to escape.
Guzman "had to have" had help from among the staff of the Altiplano prison, Interior Minister Miguel Angel Osorio Chong told journalists at a briefing on Monday.
READ MORE: Biggest jailbreak tunnel? How Mexican drug lord El Chapo escaped prison
Chong said prison warden and two other officials have been fired over the failure to keep Guzman behind bars, but rejected the notion that he should leave his office as well.
Mexico's Attorney General Arely Gomez, who was also taking part in the media briefing, said authorities would offer 60 million pesos (US$3.82 million) for information leading to capture of the high-profile fugitive.
The crime boss escaped Altiplano through a 1.5km tunnel leading to a half-constructed building. It was made possible because his surveillance left two blind spots for privacy concerns, Chong revealed. Guzman got rid of a tracker bracelet he was forced to wear and smashed bulbs lighting up the tunnel as he fled, the minister said.
READ MORE: 'I'll make you eat your words': Escaped cartel boss threatens Trump on Twitter
The escape was the second for Guzman in 15 years. He was previously caught in 1993, but in 2001 fled, bribing prison guards. He was arrested again in 2014.
The getaway is a humiliating blow to Mexican President Enrique Pena Nieto, who is now visiting France. Interior Minister Chong had to cut his participation in the tour short and return to Mexico to head the manhunt after Guzman.