'I'll make you eat your words': Escaped cartel boss threatens Trump on Twitter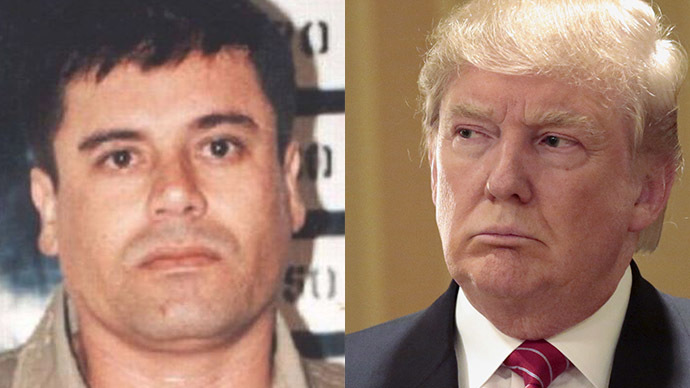 Mexico's most wanted drug lord may have taken an interest in the 2016 US presidential race, reportedly sending a threatening, foul-worded tweet to presidential hopeful Donald Trump, who had made disparaging comments about Mexican immigrants.
READ MORE: Biggest jailbreak tunnel? How Mexican drug lord El Chapo escaped prison
Joaquin "El Chapo" Guzman, the notorious boss of the Sinaloa drug cartel, escaped from a high-security Mexican prison on Saturday night. Within hours, someone on Twitter posting as @ElChap0Guzman and identified as Joaquín Guzmán Loera, threatened he would make Trump "eat his words." The message was peppered with Mexican profanities.
Sigue chingando y voy hacer que te tragues todas tus putas palabras pinche guero cagaleche @realDonaldTrump

— Joaquín Guzmán Loera (@ElChap0Guzman) July 12, 2015
Guzman escaped from the high-security prison at Toluca sometime after Saturday evening local time, reportedly using a mile-long tunnel that led up to a parked motorcycle. He had spent only 16 months inside.
Dubbed the "most powerful drug trafficker in the world" by the US Department of the Treasury, Guzman was captured in February 2014 after what the US government called "the biggest manhunt in history."
La vida da muchas vueltas, un día estamos en el hoyo y otro día estamos arriba.

— Joaquín Guzmán Loera (@ElChap0Guzman) July 12, 2015
"Life takes many turns, one day you're in a hole and the next you're on top," he tweeted.
In announcing his bid for the Republican presidential nomination last month, real estate mogul and reality TV host Donald Trump accused Mexican immigrants of being prone to crime and drugs.
"When Mexico sends its people, they're not sending their best; they're not sending you," Trump said. "They're sending people that have lots of problems, and they're bringing those problems with us. They're bringing drugs. They're bringing crime. They're rapists. And some, I assume, are good people."
Trump's remarks were denounced by Mexican authorities as well as Latino groups in the US. A spokeswoman for the National Council of La Raza, the largest Latino organization in the US, called Trump "an exceedingly silly man, who has no idea what he's talking about."
"The remarks by Donald Trump seem prejudicial and absurd," Mexico's interior minister Miguel Angel Osorio Chong told reporters at an event in Mexico City following Trump's announcement. "He surely doesn't know the contributions made by migrants from practically every nation in the world, who have supported the development of the United States."
READ MORE: Sound the Trumpet: The Donald leads 2016 GOP pack, despite controversy
Foreign Secretary Jose Antonio Meade also condemned Trump's comments, accusing the US politician of a "profound ignorance of the reality in Mexico and the migrant contribution to [US] society." Trump's comments "reflect prejudices … a politician that does not know reality does not have good prospects," Meade said.
Trump has stuck to his guns, however, and said "There is nothing to apologize for."
In a speech to a group of Hollywood conservatives on Saturday, Trump expressed regret the US had not invaded Mexico instead of Iraq in 2003, reported LA Weekly, citing an anonymous source who reportedly attended the private event at the Luxe Sunset Boulevard Hotel.
A number of US media and businesses have severed ties with Trump, citing his comments about Mexicans, including NBC, Univision and Macy's.
However, Univision may have already proven Trump correct about at least one Mexican obtaining US documents illegally. In 2013, the network obtained documents from the US Drug Enforcement Administration indicating that Guzman was issued a California driver's license in 1988, under one of his aliases, Max Aragon. The document shows "El Chapo's" face, height, age and a Los Angeles address. According to the report published by Univision, the license was used by Guzman to register two Corvettes he purchased in the US, which he later gave as gifts to public officials in Mexico.
You can share this story on social media: