Sound the Trumpet: The Donald leads 2016 GOP pack, despite controversy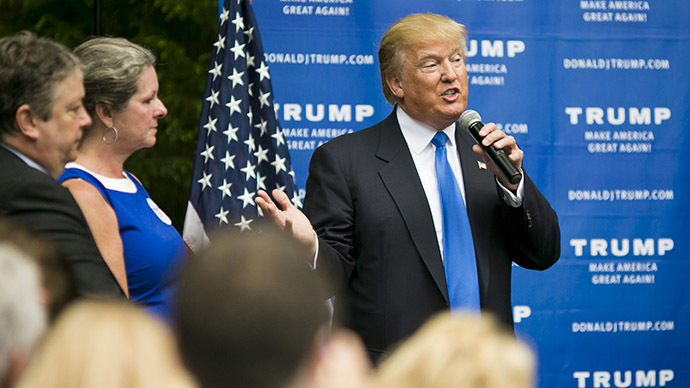 Republican presidential candidate Donald Trump is leading the packed field of GOP hopefuls, according to a poll of registered party voters. His popularity is climbing, even as controversy surrounds his campaign due to his remarks on immigrants.
Trump is the first-choice candidate of 15 percent of registered Republican voters, according to this week's Economist/YouGov poll, followed by former Florida Gov. Jeb Bush and Kentucky Sen. Rand Paul at 11 percent each. Trump is the second-choice candidate for an additional 12 percent of respondents, while Bush and Paul garnered 7 percent each in that category.
The lead in the polls comes despite Trump's controversial remarks about illegal immigrants made during his speech declaring his candidacy, calling them "rapists" and "drug dealers."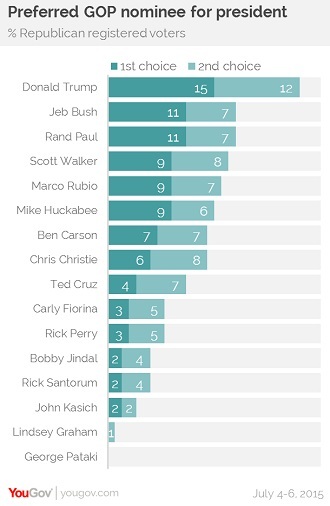 In fact, 49 percent of registered Republicans viewed Trump favorably during the July 4-6 survey, compared to just 38 percent during a survey concluded June 15, three days after the businessman announced his candidacy. His unfavorable rating dropped from 47 percent in June to 43 percent in the most recent poll, even as Trump has stood by and repeated his June remarks.
"Mexico doesn't want people, they're forcing them into our country, and we're taking them, and we're putting them in our jails, in our hospitals, and we're paying them money through different sources. It's a disgrace," Trump told NBC News on Wednesday.
Most of Trump's GOP competition has condemned the remarks, including former Texas Gov. Rick Perry and former Arkansas Gov. Mike Huckabee, but most especially by Bush, whose wife Columba was born in Mexico. Trump and Bush have blasted each other on social media and in interviews since Saturday, when the former governor told the New York Times that he "absolutely" took Trump's remarks personally. On Monday, Trump retweeted ‒ then deleted ‒ a tweet that said Bush "has to like the Mexican Illegals because of his wife."
The Republican establishment is also distancing itself from Trump, in the fear of further alienating Hispanics after 2012 GOP nominee Mitt Romney garnered only 27 percent of the Latino vote in the general election.
"My party is in a hole with Hispanics. The first rule of politics when you're in a hole is to stop digging. Somebody needs to take the shovel out of Donald Trump's hand," said 2016 Republican presidential candidate and South Carolina Sen. Lindsey Graham, according to MSNBC
However, fellow presidential candidates Texas Sen. Ted Cruz and New Jersey Gov. Chris Christie have defended Trump's controversial comments.
"I salute Donald Trump for focusing on the need to address illegal immigration. …The Washington cartel supports amnesty and I think amnesty's wrong," Cruz said on NBC's 'Meet the Press.' During an interview on 'Fox and Friends,' the senator said he didn't think Trump should apologize for "speaking out against the problem that is illegal immigration."
Christie told Fox News that he was "not personally offended" by Trump's remarks.
While Trump's popularity has risen in the polls, the number of companies telling the businessman "You're fired" has also climbed.
READ MORE: NBC severs business ties to Donald Trump after insulting Mexicans
Macy's department store, NBC's various television networks, Serta mattress company, the Professional Golfers' Association and Phillips-Van Heusen clothing company all cut ties with Trump over his comments. On Thursday, acclaimed celebrity chefs José Andrés and Geoffrey Zakarian pulled out of Trump's Washington, DC hotel project that is slated to open in 2016, the Washington Post reported.
The Federal Aviation Administration also announced that it will rename airplane navigation codes near Palm Beach International Airport that were named after the real estate tycoon by a retired air traffic controller who is a fan of Trump, according to the New York Times.
"Yeah I'm losing some contracts, who cares. They're weak and they want to be politically correct. Some of them have already apologized to me and said they made a mistake," Trump told NBC News. "First of all my company is a massive company and a very rich company, but compared to what I have, it doesn't matter. Most important – and even if it was a huge amount of money I would still do this."
Trump has threatened to sue several of the companies, including Macy's and Andrés' ThinkFoodGroup, for breach of contract.
You can share this story on social media: