Biggest jailbreak tunnel? How Mexican drug lord El Chapo escaped prison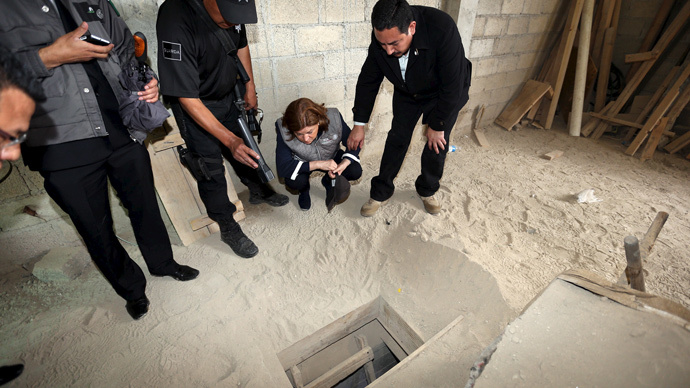 A manhunt is ongoing for one of world's most powerful drug lords, who escaped a top security prison through a 1.5-km tunnel in dramatic style. Freshly-released video and images offer a glimpse into how this brazen jailbreak was executed.
The guards of the notorious Mexican drug lord Joaquin `El Chapo' Guzman realized something was wrong when their VIP inmate tarried in the shower area of his cell on Saturday night.
The empty cell they eventually examined had a hole in the floor. A ladder led down to an underground tunnel, 10 meters deep and 1.5 kilometers long, which ended in a half-constructed empty house in the fields.
A Ruptly video, released on Monday, shows a dozen perplexed law enforcers staring down at the rectangular hole in the floor of that remote house.
The ramshackle building at the end of the tunnel has windows covered by blankets and looks more like a barn than a house.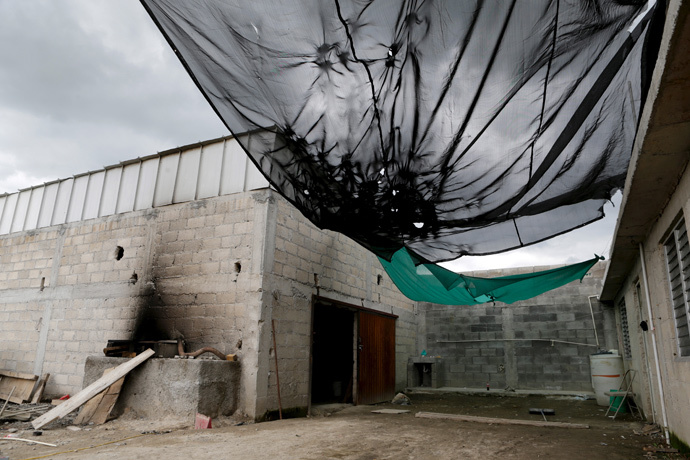 Inside, a rudimentary kitchen, a bed and several pairs of sneakers offer little clue as to the current whereabouts of El Chapo.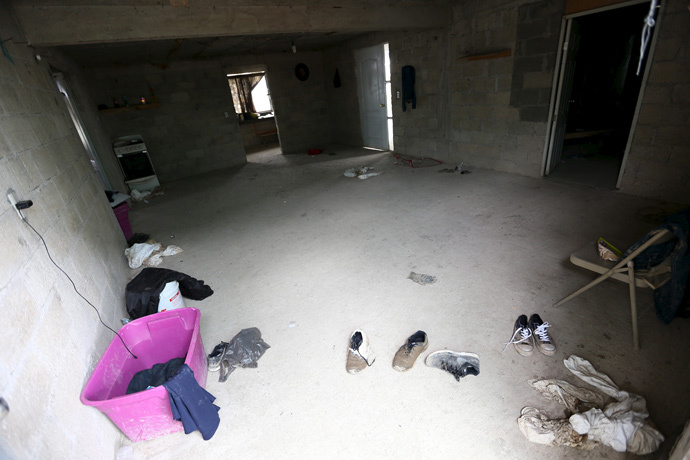 The getaway tunnel was equipped with ventilation, oxygen tanks and stairs. It also had a motorbike on rails, which was used to remove soil. The intrepid diggers may have used the house in the fields as a temporary residence while they carried out their activities.
#ElChapo's escape tunnel had ventilation, lights, high ceilings. #ElChapo's tunnel >> my first apartment pic.twitter.com/3Hz15yHL8w

— Ali B. (@Ali_B_313) July 13, 2015
A full-scale manhunt is underway and officials at the penitentiary are being interrogated over the escape, National Security Commissioner Monte Alejandro Rubido said at a press conference on Sunday.
This is not the drug lord's first 'top security prison' escape. Guzman, who is wanted by the governments of Mexico, the United States and by INTERPOL, also escaped from a federal maximum-security prison in 2001. At that time, he simply bribed his guards.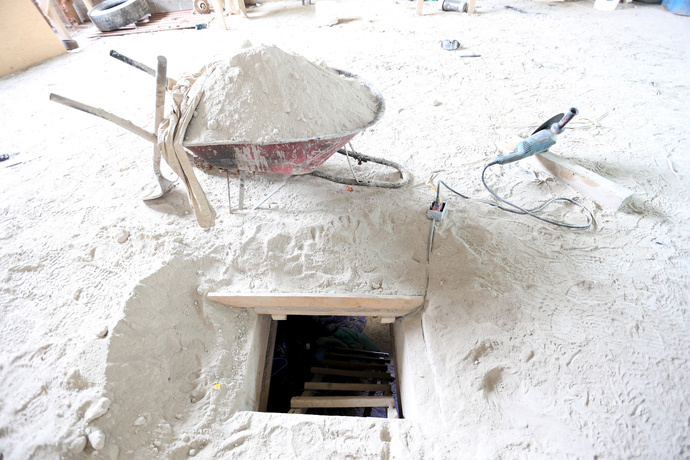 "If he's not captured in the next 48 hours, he will have completely regained control of the Sinaloa cartel," Mike Vigil, a retired US Drug Enforcement Administration (DEA) international operations chief, told AFP.
"If he is able to make his way to Sinaloa, his native state, and gets into that mountainous range, it's going to be very difficult to capture him because he enjoys the protection of local villagers."
While President Enrique Pena Nieto described the escape as "an affront to the state," the online community has been amused, playing around with the idea of the escape being carried out in the style of the iconic Shawshank Redemption movie.
The Shawshank Redemption II Starring #ElChapopic.twitter.com/e6a1qjy8f8

— Alex.Ron. (@AleksToro) July 13, 2015
"@el_julao: El Chapo haciendo un Shawshank Redemption. @SancadillaNortepic.twitter.com/wd1Kt7bHbr"

— Tiglat (@tiglat76) July 12, 2015
El Chapo (translated from Mexican as The Shorty) was imprisoned in February 2014, which means it took less than 17 months for the tunnel to be built. He is known as one of the world's most powerful organized crime bosses and until his arrest, the US Department of the Treasury considered him the "most powerful drug trafficker in the world."
The Sinaloa Cartel has reportedly smuggled billions of dollars' worth of cocaine, marijuana, and methamphetamine into the United States, and fought brutal wars with other Mexican gangs over turf and drug trafficking routes.
You can share this story on social media: