Donald Trump Nazi fiasco: Tweet, troll, blame intern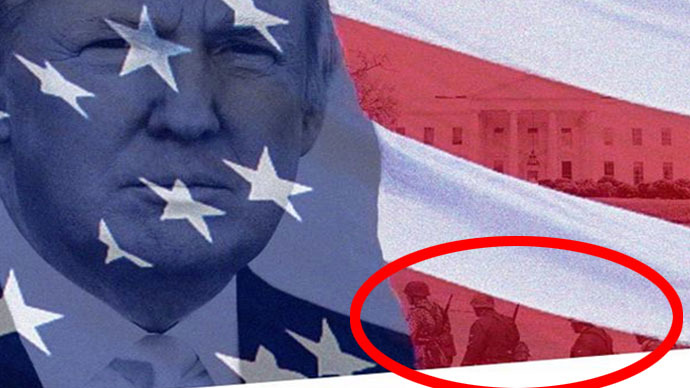 Donald Trump's election camp has seemingly once again hit the rocks after the billionaire's campaign office tweeted a photo with Nazi soldiers in the background. The SS eagle insignia could, upon close examination, be seen on the arms of the troops.
Donald Trump thinks making America great involves Nazi Soldiers? #MakeAmericaGreatAgainpic.twitter.com/CScwBEWG3C

— Political Nerd (@Sttbs73) July 14, 2015
The campaign team had photoshopped an image of Trump's face, the White House and some soldiers behind an image of the US flag. However, someone forgot to check just which soldiers were actually being used.
Found @realDonaldTrump's german soldier stock image here (searched "world war II soldiers") http://t.co/GKkcNTUKpmpic.twitter.com/ysWGeePZIr

— Reed F. Richardson (@reedfrich) July 14, 2015
On closer inspection, it turned out that the soldiers were actually Wehrmacht troops, as the SS insignia could be seen on their sleeves. Eagle-eyed Twitter user Michael Niemerg managed to spot that something wasn't right with the uniforms and he publically asked Trump whether his campaign office had used images of Nazi soldiers.
Notice the late-war Waffen-SS "dot" camo tunic, with SS eagle on left arm as in the Trump pic https://t.co/b3pwWmdwHYpic.twitter.com/ulScwicbZU

— John Schindler (@20committee) July 14, 2015
The tweet was quickly deleted, with the blame being placed on "a young intern," who managed to find the image online. However, social media users had a field day in poking yet more fun at Trump.
You can't make this up... Donald Trump's campaign posts a Nazi re-enactors photo on Twitter: http://t.co/cOTS0NdBqfpic.twitter.com/FTQZFsXNnX

— Dave (@YouGiveMeFever7) July 15, 2015
"A young intern created and posted the image and did not see the very faded figures within the flag of the stock photo," Trump's team spokesperson told the Guardian. "The intern apologized and immediately deleted the tweet."
READ MORE: Trump trumped by Twitter trolls
The scandal coincided with a poll released by USA Today showing that Trump had enjoyed a jump in popularity, in his bid to try and secure the Republican nomination to run for the White House.
The survey, which was also carried out by Suffolk University, showed that 17 percent of the public believe Trump to be leading Republican candidate, which is an 11 point increase from June. His nearest rival, the Florida governor Jeb Bush, has 14 percent.
The saying goes that all publicity is good publicity and the billionaire's remarks about Mexico sending drug cartels and rapists to the US do not seem to have put off American's from supporting him.
Here is the real #DonaldTrump's campaign poster without the Waffen SS. #MakeAmericaGreatAgain@realDonaldTrumppic.twitter.com/oZ8zQk4kwM

— Green lemon (@green_lemonnn) July 14, 2015
Donald Trump f*cked up once again and tweets a photo of Nazi troops: http://t.co/5KgpiM8HqXpic.twitter.com/7Hmv0FX5wD

— Complex (@ComplexMag) July 15, 2015
Those remarks caused outrage in Mexico, with officials from the country saying that Trump's remarks were "prejudicial and absurd."
READ MORE: 'Jurassic Trump' gnaws on migrants, called 'prejudicial and absurd' by Mexican officials
Mexico's most wanted drug lord Joaquin "El Chapo" Guzman, the notorious boss of the Sinaloa drug cartel, who escaped from a high-security Mexican prison on Saturday, was also offended by Trump's statement concerning Mexican immigrants, and reportedly sent a threatening, foul-worded tweet to presidential hopeful.
READ MORE: 'I'll make you eat your words': Escaped cartel boss threatens Trump on Twitter