The Donald declares: Trump announces presidential bid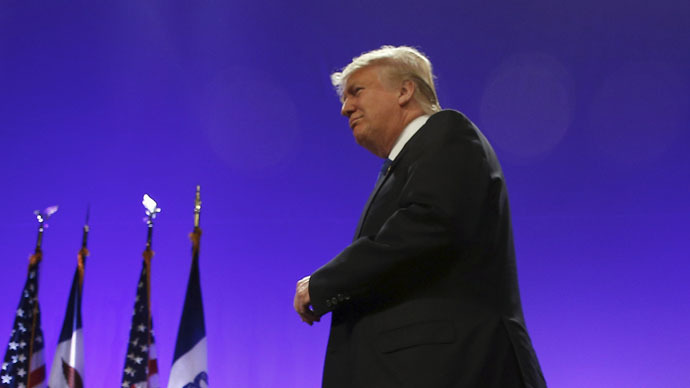 Real estate mogul and reality TV star Donald Trump announced he is running for president in 2016. He is also about to disclose his net worth, estimated at $9 billion. Opinion polls, however, indicate he is the most unpopular candidate of all.
Sources close to Trump's campaign, who talked to the media on condition of anonymity, say that he will publish the financial disclosures on Tuesday, after the political rally at New York's Trump Tower that began at 11 am local time. The two-page document will show a valuation of Trump's hotels and other properties, and show an outline of his debts as well as cash on hand.
The rumored figure of $9 billion in assets is more than twice the $4.1 billion estimate of Trump's net worth by Forbes magazine. Either way, he would be the wealthiest Republican candidate.
Awaiting @realDonaldTrump at Trump HQ on 5th Ave. They are blasting Nessun Dorma pic.twitter.com/Hen1WKkeCs

— Page Six Emily (@PageSixEmily) June 16, 2015
Though Trump has fueled speculation about running in 2012, he never entered the race. The financial disclosure indicates that this time he's serious. In addition to hiring staffers in early primary states such as New Hampshire, Iowa and South Carolina, Trump has notified NBC that he won't be renewing his contract for the popular reality show, "The Apprentice."
Under a 1978 federal law, presidential candidates have to file a personal financial disclosure with the Federal Election Commission (FEC) within 30 days of announcing their candidacy, though they can request two extensions of 45 days each. The disclosure has to contain their personal income and financial interests, as well as those of their spouses and dependent children.
Incase you were wondering where all Trump's money comes from. Here's the asset list he was waving around on stage. pic.twitter.com/YmRXMhofA1

— Paul Danahar (@pdanahar) June 16, 2015
Touring Iowa at the beginning of June, Trump told the Des Moines Register he would be the "most successful person ever to run for president."
"Ross Perot isn't successful like me," Trump said, referring to the Texas businessman who received nearly 19 percent of the popular vote in 1992. Comparing himself to the previous Republican contender, Trump said, "I have a Gucci store that's worth more money than Romney."
In a February interview to the Washington Post, Trump dismissed rumors that his bid was a publicity stunt. "Everybody feels I'm doing this just to have fun or because it's good for the brand," he said. "Well, it's not fun. I'm not doing this for enjoyment. I'm doing this because the country is in serious trouble."
His campaign slogan is "Make America Great Again."
"@DavidSBaldwin: @realDonaldTrump today's the day #Trump2016! Good luck!"

— Donald J. Trump (@realDonaldTrump) June 16, 2015
In addition to joining a crowded Republican field, Trump faces another daunting prospect: Americans just don't seem to like him very much. A recent Washington Post/ABC poll shows that only sixteen percent of US voters regard him favorably, while seventy-one percent do not, giving him a favorability rating of negative 55. By comparison, Hillary Clinton's rating is a negative 4.
According to statistical analysts FiveThirtyEight, who predicted the 2012 presidential election results with uncanny precision, Trump's favorability is at negative 32 points, the worst by far of all 106 candidates in their database since 1980.
The most popular candidate ever? 1999's George W. Bush.
You can share this story on social media: