Naughty Marshal: Agency confirms employee caught in after-hours rooftop tryst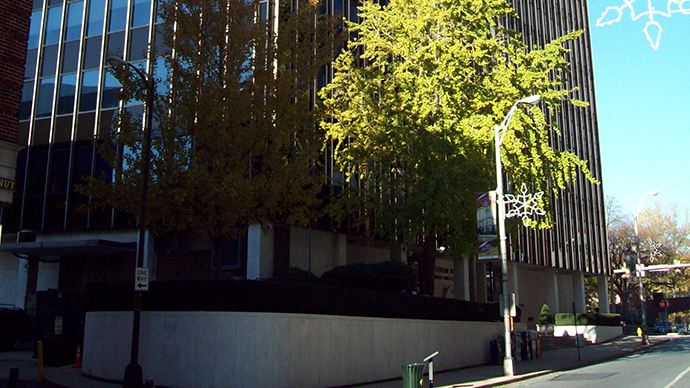 The US Marshals Service confirmed one of their employees had sex on the roof of a federal courthouse in Harrisburg, Pennsylvania, after photos of the amorous couple were sent to the media by a neighbor worried about the building's security.
A resident of the nearby apartment building spotted a man and a woman having sex on the rooftop of the Ronald Reagan Federal Courthouse in downtown Harrisburg, and took pictures, WHTM-TV reported. The building closes at 5:00pm, and the tryst captured on camera took place after hours.
US Marshalls employee caught having sex on Harrisburg courthouse roof! yep... It was caught on camera!

— Eva Pilgrim (@EvaPilgrim) July 10, 2015
Reportedly concerned about a potential breach of security at the courthouse, the neighbor forwarded the pictures to the TV station, which contacted the Marshals for an explanation. WHTM also aired the grainy images – redacted for modesty and blurring the couple's faces to protect their privacy.
READ MORE: Feds investigating video of US Marshal destroying woman's camera
US Marshal Martin J. Pane confirmed an employee of the agency was involved, but said the Marshals Service was "confident" that the building's integrity had not been compromised. The matter is under investigation, Pane added.
The United States Marshals Service is the oldest federal law enforcement agency, created by the Judiciary Act of 1789. Acting as the enforcement arm of the US federal courts, the Marshals are responsible for serving federal arrest warrants, prisoner transport, pursuit of fugitives, and protection of officers of the court. They also run the witness protection program.
The agency has recently been accused of partnering with the CIA to conduct a surveillance program in major US cities, using technology mimicking cell phone tower signals.