Docs show SWAT teams often deployed for minor drug raids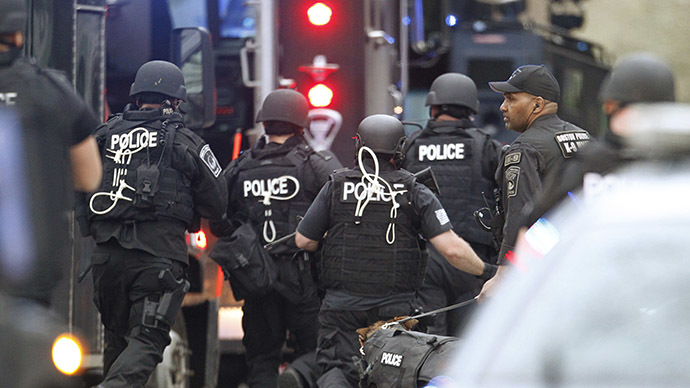 Newly acquired documents show that over a two-year period, Massachusetts SWAT teams were mostly deployed to serve warrants and arrests for minor drug offenses, according to the American Civil Liberties Union.
Nine hundred pages of documents show how SWAT teams are being routinely deployed to carry out tasks that were previously considered ordinary police work, according to the ACLU of Massachusetts.
"The single-most reason for deployment wasn't for public safety concerns, but for drug offenses," Jessie Rossman, staff attorney with the ACLU, told the Boston Globe.
For the first time, the documents show policies, procedures and organizational charts for SWAT teams, as well as military-style equipment lists showing two armored BearCat vehicles, night vision goggles, grenades and high-tech firearms.
READ MORE: Police lobbies pressure Congress to keep their military equipment
The trove also includes "after action reports" for 79 SWAT deployments in Middlesex and Essex counties during August 2012 and June 2014, when the ACLU was able to see how the teams were being used. What it found was that teams showed up for barricade scenarios, serving warrants, suicide situations, crowd control at events like a Hells' Angels rally, the Dalai Lama visit, the Red Sox World Series and the 2013 Boston Marathon bombing response.
"An overwhelming 63 percent of those warrant raids were conducted to search for drugs or arrest someone suspected of drug crimes," wrote Kade Crockford of the Massachusetts ACLU.
"In the 21 drug warrant raids detailed in the records, police only documented having recovered drugs five times – less than 25 percent of the time."
A former police officer, Thomas Nolan, told the Boston Globe that the deployment of SWAT teams to serve warrants is becoming more standard, but he questions whether a tactical unit is needed when a person is suicidal, for instance.
"In some of these situations it's like swatting a mosquito with a sledgehammer," Nolan, now a criminology professor at Merrimack College, told the Globe.
"It will continue to be used in a manner more and more routine. We don't want military-style equipment used with local law enforcement."
A typical report for a SWAT raid In Lowell, Massachusetts, August 2013 reads: "[T]he main targets of the search warrant…are suspects in dealing narcotics, both pills and cocaine … also believed [sic] in possession of several firearms with intent to sell them."
READ MORE: ACLU sues Mass. SWAT agency for refusing to release records
The report describes how 48 people, with two SWAT teams accompanying the Lowell Police Department, carried out "a no-knock high risk warrant." The teams breached several doors of a home to enter at 6:00am, taking the family by surprise, but the police found no drugs or guns in the home. One person was arrested on an outstanding motor vehicle violation warrant, and charged with reckless endangerment of a child and possession of ammunition. The children were handed over to the Department of Children and Families.
The documents were acquired by the ACLU through a public records lawsuit filed in June 2014 against the Northeastern Massachusetts Law Enforcement Council (NMLEC), a consortium of 58 police and sheriff agencies.
NMLEC initially fought the lawsuit, arguing it was a private corporation, but the ACLU counter-argued that SWAT teams needed government authority to carry weapons and make arrests, and were therefore subject to the open records law.
Special Weapons and Tactic Teams (SWAT) use special or military equipment and were first created in the 1960s for crowd control measures or to be used in a violent confrontation with a gunman. The teams were repurposed by police departments in the 1980s and 1990s during the "War on Drugs." Criminologist Peter Kraska has estimated that now there are somewhere between 50,000 and 80,000 SWAT raids per year.