Number of police departments using stun guns, Tasers increased by 10 times – report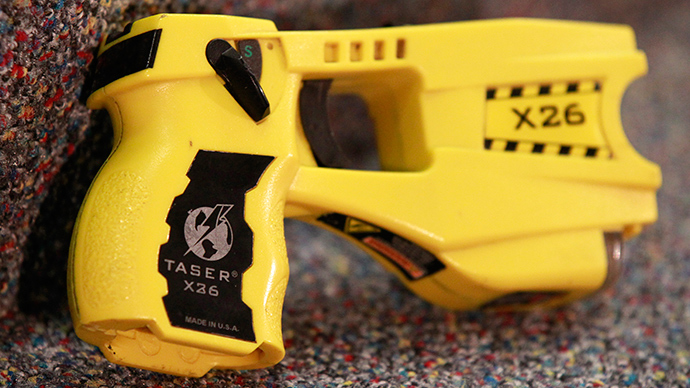 Police officers in the US have stepped up their use of defensive tactics and equipment, with a new Justice Department report showing the number of departments authorizing the use of stun guns and Tasers increased by more than 10 times.
Specifically, the report surveyed local departments and found that those sanctioning the use of these weapons rose more than 10 times between 2000 and 2013, up from 7 percent to 81 percent – or up from 60 percent in 2007 to 81 percent in 2013.
Additionally, the report from the Bureau of Justice Statistics (BJS) found that officers are increasingly employing video-cameras, conducting surveillance and wearing protective body armor while on patrol. Titled "Local Police Departments, 2013: Equipment and Technology," it was based on a semi-annual survey conducted in 2013.
Researchers found that nearly nine in 10 local police departments allowed their officers to use pepper spray and batons. A majority of departments authorized the use of defensive physical tactics, including open hand (91 percent), takedown (89 percent) closed-hand (85 percent) techniques, while four in 10 departments allowed neck-restraint tactics when grappling with suspects.
READ MORE: New York settles with Occupy Wall Street protesters for over $300K
The use of a neck-restraint move set off a firestorm of protests over police brutality in New York when police officer Daniel Pantaleo used a chokehold during the arrest of Staten Island man Eric Garner, which was captured on a cell phone video in July 2014. The tactic killed Garner despite him repeating "I can't breathe" 11 times.
The survey of 12,000 police departments found that 32 percent provide at least some officers with body cameras. There was no available data on body-worn cameras from previous surveys to do a comparison, however.
In embracing emerging technologies, 90 percent of police departments, or 11,000 departments, were using some type of video camera, and 93 percent of police officers were provided with in-field computer access linked to vehicle records, in order to check for stolen vehicles or outstanding warrants.
Additional findings include 17 percent of departments using automated license plate readers, with 49 percent using video cameras for the surveillance of public areas. For now, less than 1 percent were using drones, but 4 percent of police departments were using gunshot detection systems, BJS reported.
READ MORE: Police say New Mexico forfeiture reform leaves them short-changed
Many of the new surveillance techniques used by police departments are undergoing increased scrutiny by civil rights groups like the American Civil Liberties Union for possibly violating Americans' constitutional rights. Many of the technologies were adopted by departments without any regulations or procedures set in place.
The report also revealed that in 2013, some 71 percent of police departments required uniformed police officers to wear protective body armor at all times while in the field. This represented a three-fold increase since 1990.
Other trends include the use of social media to communicate with the public through websites.
"More than 90 percent of the departments serving 50,000 or more residents used social media," BJS noted. "Departments using social media were more likely to report using Facebook (75 percent) than Twitter (24 percent) or YouTube (10 percent)."
You can share this story on social media: