New York settles with Occupy Wall Street protesters for over $300K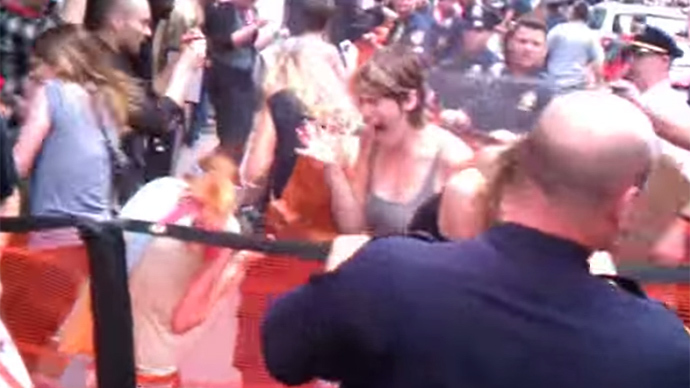 New York City has agreed to pay more than $300,000 to six Occupy Wall Street protesters who said police unjustly blasted them with pepper spray. It is the latest settlement out of 2,600 cases related to the 2011 Occupy Wall Street protests.
The settlement of $332,500, announced Monday, will give the six protesters payouts ranging from $52,500 to $60,000. The case stems from a march one week after Occupy protesters first gathered and camped out in lower Manhattan's Zuccotti Park. Online videos showed police corralling protesters in orange netting, with New York Police Deputy Inspector Anthony Bologna pepper-spraying a cluster of marchers, mostly women. The video went viral and helped galvanize interest in and support for the Occupy movement.
The lawsuit claimed New York City and the NYPD violated protesters' constitutional rights under the First Amendment.
The city's Law Department said the latest settlements were in the city's best interest. The protesters' lawyers said the lawsuits held police accountable for their actions.
"We think it's an amount that reflects that the city is aware that its action were entirely improper," said Mark Taylor, who represented three of the protesters, Damien Crisp, Kelly Hanlin and Julie Lawler.
READ MORE: Occupy group abolishes nearly $4 million in student loan debt
Aymen Aboushi, a lawyer for Chelsea Elliot and Jeanne Mansfield, said the lawsuits aimed to alter police officers' approach to demonstrations.
"When you have neutral video that's exposing an unconstitutional practice, I think it really goes a long way in getting people's attention, including getting the city's attention and making them come to the table to discontinue this sort of practice," Aboushi told CBS New York.
Ron Kuby, a lawyer for Kaylee Dedrick, who was seen on video being sprayed and crumpling to the ground, told the New York Daily News that the figure is "areasonable settlement under the circumstances."
Kuby urged the District Attorney's Office to file criminal charges against Deputy Inspector Bologna, which it declined to do. Bologna was eventually disciplined with the loss of 10 vacation days for violating police guidelines, and then transferred to Staten Island.
Bologna's union said he acted out of concern for safety and prevented more injuries.
The settlement is the latest in a series of payouts New York City has made to supporters of the Occupy movement against economic inequality and corporate greed. New York City has now spent over $1.2 million resolving lawsuits over the Occupy protests, which human rights researchers have said were systematically suppressed by the New York Police Department.

READ MORE: NYC pays largest Occupy-related settlement to protesters for wrongful arrest
The other sizable settlements include a $583,000 agreement with 14 protesters who said they were wrongfully arrested on New Year's Day in 2012. Another $230,000 was paid for the destruction of property during a police raid on November 15, 2011, and $55,000 was paid to a man arrested while shooting video at an Occupy demonstration, according to lawyers in those cases.
Less than 1 percent of the 2,600 cases related to Occupy Wall Street actions remain. Most of the cases were resolved with dismissals or other actions that dismissed charges and fines against protesters.
You can share this story on social media: