Mass killings, school shootings may be contagious – study
Published time: 3 Jul, 2015 03:57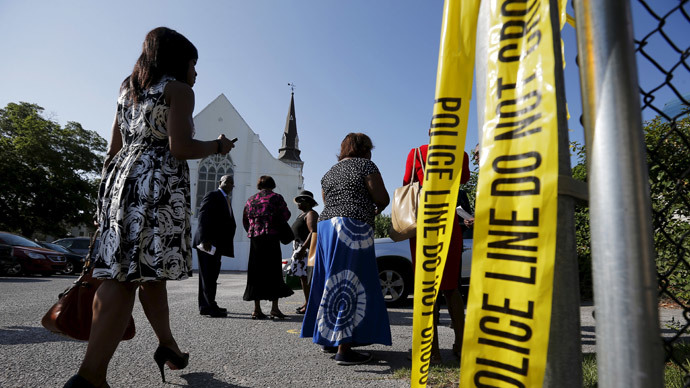 A new study found that mass killings and school shootings inspire similar violent attacks for an average of 13 days after the initial tragedy. The study also that found mass shootings were significantly higher in states with a high rate of gun ownership.
The study was conducted by an Arizona State University team which examined four databases based on past high-profile mass killings and school shootings between 1998 and 2013. The data from a total of 897 events involving four or more deaths was fit to a contagion model to see whether the tragedies increased the odds of similar events occurring in the future. Using the model, the team found that mass killings and school shootings create "a period of contagion that lasts an average of 13 days," adding that "roughly 20 to 30 percent of such tragedies appear to arise from contagion."
READ MORE: Quarter of US cop shooting victims were in mental distress – report
"While we can never determine which particular shootings were inspired by unconscious ideation, this analysis helps us understand aspects of the complex dynamics that can underlie these events," said lead author Sherry Towers, research professor in the Arizona State University Simon A. Levin Mathematical, Computational and Modeling Sciences Center, in ASU news.
The study, titled "Contagion in Mass Killings and School Shootings," was published in the July edition of PLoS One.
Contagion models observe patterns of many events bunched in time, rather than events occurring randomly in time. The models have been applied to financial markets, the spread of YouTube videos on social networks, and civilian deaths in Iraq, but this study marks the first time the model has been applied in the context of mass murders and school shootings.
The team had to rely on private databases from USA Today and the Brady Campaign to Prevent Gun Violence, as there are no comprehensive federal repositories of data on mass killing and school shootings in the US.
Previous research has found that suicides can be contagious among young people, particularly when details are circulated concerning the method used.
READ MORE: 9 people killed in S. Carolina church shooting, police investigating 'hate crime'
The study began with a hunch that media attention given to mass killings and school shootings might lead to copy-cat killings for a period of time afterwards.
"I wondered if it was just a statistical fluke, or if somehow through news media those events were sometimes planting unconscious ideation in vulnerable people for a short time after each event," said Towers in ASU news.
The study did not delve into the motives for the shootings, but Towers' team did find that states with high levels of gun ownership were far more likely to have a higher rate of mass killings with firearms, as well as school shootings.
Mass killings with firearms occur, on average, every two weeks in the US, and school shootings tend to occur about once a month, according to background information in the study.