​Montana polygamist applies for marriage license, cites same-sex ruling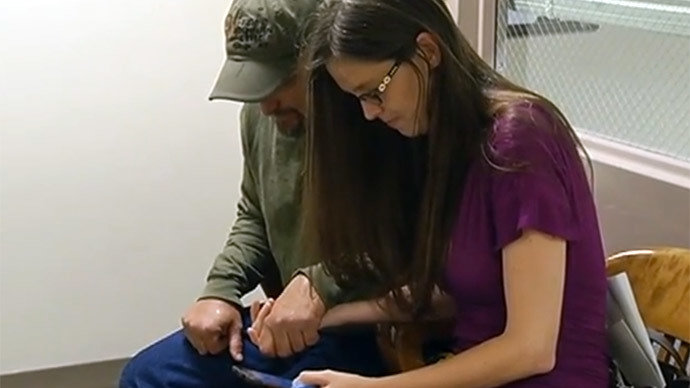 Citing the historic Supreme Court ruling recently legalizing same-sex marriage, a Montana man has applied for a second marriage license that, if granted, would sanction the relationship he has with two wives.
Polygamist Nathan Collier, 46, officially applied for a marriage license for his second wife, Christine, on Tuesday at the Yellowstone County Courthouse in Billings, the Associated Press reported. He married his first wife, Victoria, back in 2000.
Though Collier met both women in 1999, after marrying Victoria he was only able to have a spiritual ceremony with Christine. The three have seven children total, including some from previous relationships.
Citing a desire for "legitimacy" several times, Collier said the Supreme Court's same-sex ruling paved the way for his application.
READ MORE: US Supreme Court rules in favor of same-sex marriage nationwide
"We just want to add legal legitimacy to an already happy, functional, strong, loving family," he told KRTV. "We're not even asking for acceptance. We're just asking for tolerance. Let us live our lives together without fear."
"My second wife Christine, who I'm not legally married to, she's put up with my crap for a lot of years. She deserves legitimacy," he added to AP.
Currently, the ability to hold more than one marriage license is illegal in all 50 states, though polygamists still cohabitate. On these grounds, the courthouse denied Collier's application but said it would review it with the county attorney's office before rendering a final decision.
"I think he deserves an answer," Yellowstone County chief civil litigator Kevin Gillen told AP, before saying his review is finding that "the law simply doesn't provide for that yet."
Whether the recent Supreme Court ruling lays the groundwork for legal polygamy is not clear, as the majority opinion mentions only couples. However, critics of the decision, including Chief Justice John Roberts, argue that the broad ruling could lead to the legalization of polygamy.
The majority opinion "offers no reason at all why the two-person element of the core definition of marriage may be preserved while the man-woman element may not," Roberts wrote in his dissent. "Indeed, from the standpoint of history and tradition, a leap from opposite-sex marriage to same-sex marriage is much greater than one from a two-person union to plural unions, which have deep roots in some cultures around the world."
Collier said that denying his marriage application would be a "violation" of the couple's rights, adding that he would file a civil rights lawsuit in that event.
"It's two distinct marriages, it's two distinct unions, and for us to come together and create family, what's wrong with that?" said Christine, according to local KTVQ."I don't understand why it's looked upon and frowned upon as being obscene."
READ MORE: 'Like a thunderbolt': America reacts to gay marriage ruling
Elsewhere in the US, the same-sex ruling has sparked another first: a financial donation from the Mormon Church of Jesus Christ of Latter-day Saints to the Utah Pride Center, which provides support and services to the community's lesbian, gay, bisexual and transgender individuals.
The amount of the donation has not been disclosed, but both groups hailed the development despite having a difference of opinion on the gay marriage ruling.
"It's a kind of heated moment rhetoric-wise in terms of the conversation," said Kent Frogley, the Pride Center's board chairman, to the Salt Lake Tribune. "That said, that doesn't stop us from partnering together in ways that are important."
In a letter accompanying the donation, the church said, "We are grateful to be able to serve your efforts in this worthy project and appreciate the work that you and others are doing related to this initiative."