Wisconsin governor, Koch brothers' protégé becomes 15th GOP presidential candidate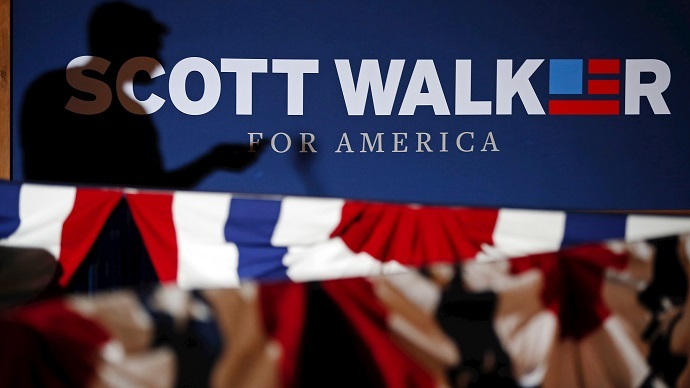 Wisconsin Governor Scott Walker joined the crowded race to be the Republican presidential nominee in 2016. His announcement makes him the 15th candidate in the GOP field, and he has the backing of the influential Koch brothers.
"I'm in. I'm running for president because Americans deserve a leader who will fight and win for them," the 47-year-old Republican tweeted Monday morning.
I'm in. I'm running for president because Americans deserve a leader who will fight and win for them. - SW http://t.co/DZG253QjfP#Walker16

— Scott Walker (@ScottWalker) July 13, 2015
He followed up the tweet with an 89-second video trumpeting his successes as the governor of Wisconsin.
"America needs new, fresh leadership with big, bold ideas from outside of Washington to actually get things done," Walker says in the video. "In Wisconsin, we didn't nibble around the edges. We enacted big, bold reforms that took power out of the hands of the big government special interests and gave it to the hard-working taxpayers ‒ and people's lives are better because of it."
He will officially declare his candidacy at a speech in Waukesha, Wisconsin on Monday afternoon.
The son of a Baptist minister, Walker dropped out of Marquette University and never graduated from college. He says he caught the "political bug" and became interested in public service during a week-long leadership and government training program in Wisconsin sponsored by the American Legion, followed by a similar national program in Washington, DC.
"Governor Walker's sterling record of accomplishment ‒ historic pension reforms, tax cuts, right to work ‒ provide an impressive foundation as he begins this campaign, but, yes, they do help raise expectations for him," Tim Phillips, the president of Americans for Prosperity ‒ a conservative advocacy group supported by the billionaire industrialists Charles G. and David H. Koch ‒ told the New York Times.
He has benefited politically from his close ties to the billionaire Koch brothers' Americans for Prosperity, an organizing group for the Tea Party movement. Bloomberg deemed the Wisconsin governor the "King of Kochworld," noting that Walker has the closest ties to the conservative siblings of any potential presidential Republican candidate.
Walker has been hurt by tumbling job-creation numbers in Wisconsin during his term as governor, though the state's unemployment rate is lower than the national average. His standing among prominent Republicans has also fallen thanks to a series of gaffes, the NY Times reported. His fundraising has lagged behind that of GOP candidates who jumped in the race before he did.
"Walker had a great winter but maybe got a little cocky, a little ahead of himself, and now he really has to take the time to work Iowa and build up the resources to compete harder in the early primary states," Ed Rollins, a veteran Republican consultant, told the NY Times.
DNC representative at packed news conference to critique Walker run #WKOWpic.twitter.com/2echeJFC0h

— Tony Galli (@galli_wkow) July 13, 2015
Walker's political idol is President Ronald Reagan, and he says that he has followed in the beloved Republican's footsteps by cutting taxes and battling organized labor. His priorities as president would be reducing the size of the federal government, transferring some of its power to the states and restoring "a sense of safety for Americans and free-loving people around the world," he told the NY Times in an email.
The Wisconsin governor is vehemently against President Barack Obama's executive order to offer legal status to some illegal immigrants. Walker also recently endorsed an amendment to the US Constitution that would let each state decide whether or not to allow gay marriage. He is set to sign a Wisconsin bill that would ban all abortions in the state after 20 weeks, except if the life of the mother is in immediate jeopardy.
Walker started his career working for IBM, then the American Red Cross. He first eyed politics at age 22, when he lost a bid to represent a Milwaukee district in the Wisconsin State Assembly in 1990. Walker then moved to Wauwatosa, a more conservative district, and joined the state legislature after winning a 1993 special election. In another special election, this time in 2002, Walker became the Milwaukee County executive. He initially ran for Wisconsin governor in 2006, but dropped out after 14 months of campaigning, citing fundraising difficulties. He ran again in 2010, winning the governorship with the Republican Party's endorsement.
My full statement on Scott Walker's upcoming announcement that he's running for president: "Scott Walker is a national disgrace."

— Richard L. Trumka (@RichardTrumka) July 13, 2015
Walker was the central figure during a divisive battle over the rights of union workers employed by the state in 2011. Intense protests in Wisconsin led to recall efforts of Republicans in the State Assembly in 2011, followed by an attempt to remove Walker himself from office. Both recall elections failed.